Whether you live in your van year-round or do most of your travel during the winter months, you must prepare for the stark reality of the colder and often snowy season. Just like you bundle up for the elements, you'll want to equip your van so you can get around and stay safe. You may also decide to store your van for the winter for extra protection. Whatever you decide, here are some tips for keeping your van in tip-top shape, avoiding potential dangers, and methods for ensuring the security of your van when in storage.
Equipping Your Van for The Cold Season
If you intend to continue driving your van during the colder parts of the year, then you first need to winterize it. This essentially means making the necessary modifications so you can get around without breaking down. You may think that the winter is mild where you usually stay, but if you're traveling during the winter, you'll need to research the places where you'll be going so you can know if there will be snow and the temperatures you'll be facing so you can properly prepare.
In the case that you're going somewhere with snow and ice, the first thing you'll want to do is buy and equip your van with winter tires. A good winter tire will have thick tread, which will better grip the road — a necessary asset when you're facing icy conditions. Without the proper tires, you could lose control of the van and find yourself in a world of trouble. If you're planning on traveling through snow or up steep inclines, you may also need to look at adding chains to your tires for increased traction.
When your van is your primary residence during the winter, you need to keep it warm and insulated like a house so you can stay safe while you sleep or work. You want to limit cold air from getting inside. There are many materials you can use to close the gaps — from marine sealant to polyisocyanurate foam. You can find insulation instructions online or visit a local company that winterizes vehicles. Whatever you do, get it done before the cold hits.
Learn To Handle Common Winter Issues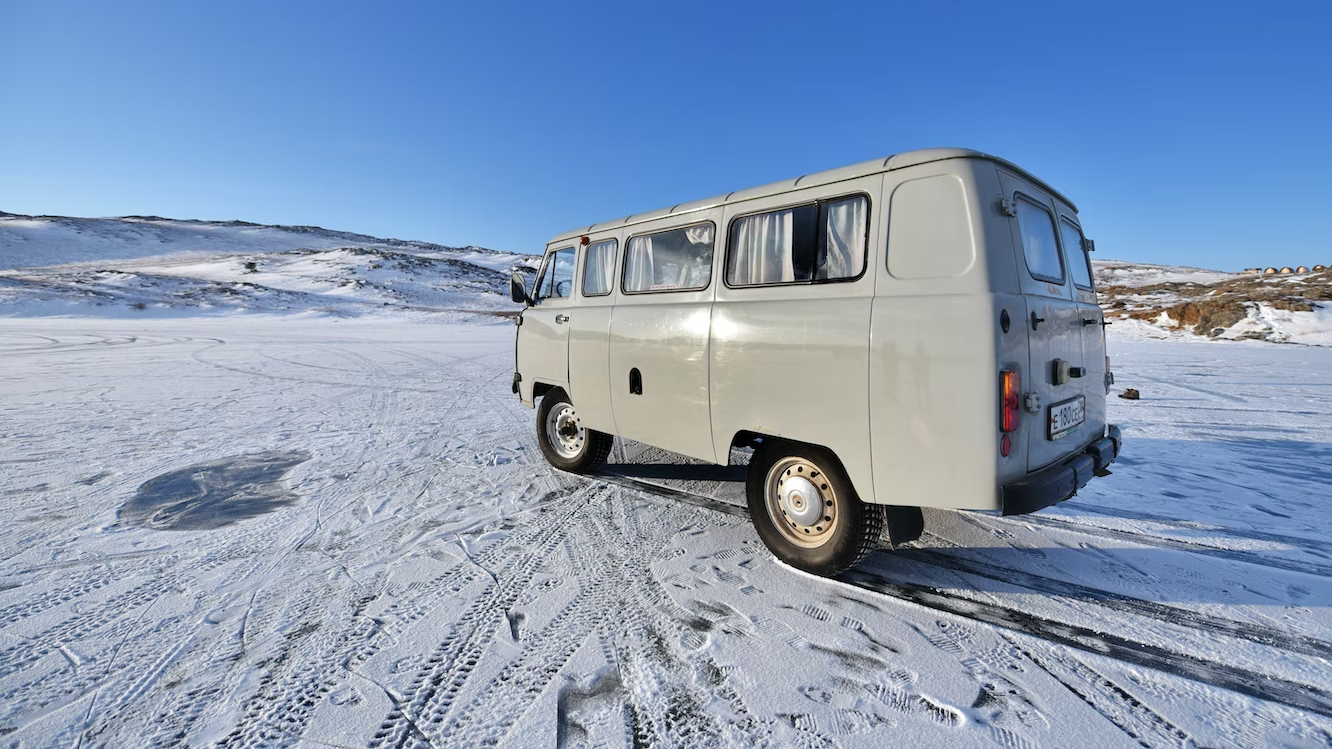 Source: Unsplash
Winter can be unpredictable, so you'll want to be prepared for everything, starting with the possibility of getting stuck in the snow. You could drive into a sudden snowstorm or wake up in the morning to find you're stuck in place. Prepare for the possibility by creating an emergency kit that has a shovel, snow brush, rock salt to melt the snow, and jumper cables in case you lose battery power during the process.
Since winter is often cold with few moments of warmth, you'll likely see a build-up of condensation and moisture within the van. It can be uncomfortable, and it can take forever for your clothes and belongings to dry. There are tactics you can try to prevent condensation and future mold, like cracking your window a bit to allow airflow. You can also dry clothes and boots with a portable heater or boot dryer, so they're ready to go the next time you need them.
You'll also need to prepare for the fact that it may get darker earlier during the winter than during the rest of the year. So, if you sleep in your van at night, then you may want to look into potential camp spots before it gets dark. Before heading to a new place, research possible places to stay the night so you're not driving around late into the night in an unfamiliar area.
Van Storage Tips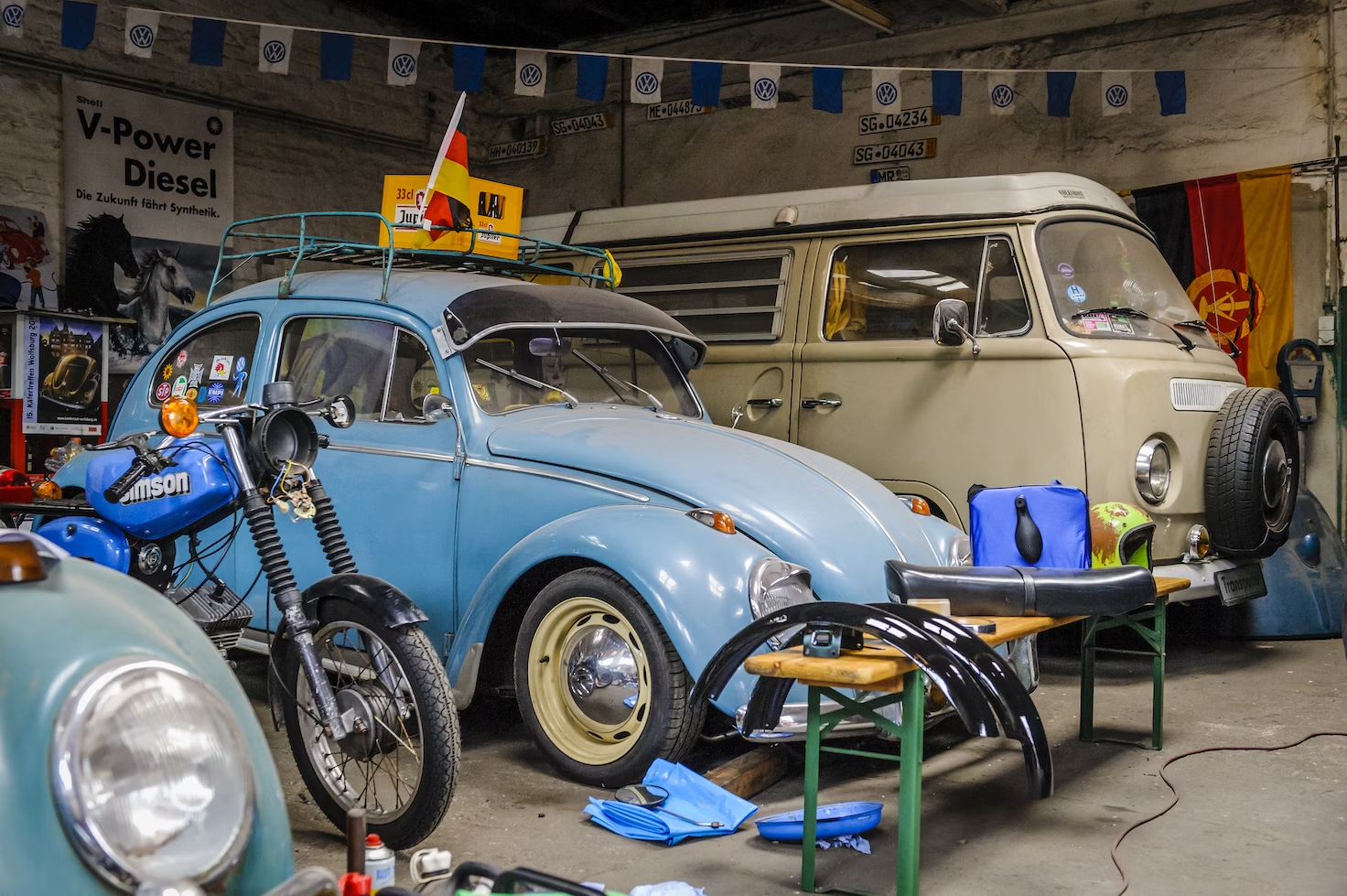 Source: Unsplash
If you have alternate transportation arrangements for the winter or you don't want to risk damage to your van, then you may decide to put it into self-storage. The cold of winter can affect your van even if it's in storage, so research and find climate-controlled storage units. In addition to keeping the van and your belongings from freezing, a climate-controlled unit will reduce the chances of mold and mildew.
Before storing your van for an extended period, you'll want to perform some storage prep. If you've recently been driving your van during the winter, you've likely driven over some road salt, and over time, that salt can rust the underside of your vehicle. Washing your van before storing it can remove that salt and limit the chance of rusting. You can ensure that your van will stay in tip-top shape by changing the oil, disconnecting the battery so it doesn't corrode, and checking for any leaks that could make your van inoperable when you go to pick it up.
There are other smart tips to implement when storing your vehicle, like pumping up your tires and parking on foam board insulation. This tactic can prevent flat spots on the tires after sitting for months. In addition to knowing that the van will start when you pick it up, filling the gas tank also reduces the chances that condensation will form inside the tank, which could result in fuel-system corrosion. With the tank full, add in a fuel stabilizer, which prevents the gas from getting stale over time.
There's a lot of joy and happiness to be had during the winter season, but to enjoy it and stay safe, proper van maintenance and care are a must. Consider these tips if you're driving or storing your vehicle, and it will live to drive another day.