Living in the digital age allows us to use our phones to find a date (both the calendar and romantic types), call an Uber, deliver our groceries, record our sleep patterns, and even control our TVs. So, it's no surprise that there are also easy ways to tidy up and track our belongings. As the saying goes, whatever your need, "there's an app for that!"
Have you begun to embrace minimalism at home, Marie Kondo-style? Is your family relocating to a new place but taking their time getting there? Are you adapting to life in a smaller office, and perhaps even a home office these days? Whether you're taking steps to "spark more joy" or streamline your life (or both), the stuff you need to hold onto needs to go somewhere.
Enter Bargain Storage to the rescue to provide the self-storage freedom and security you're seeking. We're the first to know that stashing your belongings in a secure self-storage facility gives you room to breathe, but we also know that keeping track of everything can be taxing.
Thanks to the technical wizardry of phone apps, with just a click and download you'll be one step closer to organizing and dominating that daunting residential move, overwhelming office relocation, or long-term storage situation.
Search your phone's app store for "self-storage apps" and you'll probably be surprised to find more choices than you bargained for (see what we did there?). Luckily, we're familiar with a good number of these apps, so we've taken time to curate a short list of our favorites just for you. Why have we gone to this trouble? Because it's just who we are. And, we know that coordinating a move or decluttering project is overwhelming enough; choosing a self-storage inventory app shouldn't be.
Best of all? All of these apps are free to start using, so nothing is holding you back!
Our Top 5 Self-Storage Apps
BEST FOR DECLUTTERING
VIDDER: Visual Inventory for Personal Use
Why We Love It: Streamlined Scandinavian Design | Ease of Use | Bulk Photo Upload
Vidder means "expanse" or "uninterrupted space" in Swedish — which is exactly how your home will feel when you use this app.
This sleek, easy-to-use platform that's tailor-made for moving and storage is simple without sacrificing utility. Unlike other inventory apps, it allows the user to input items into various organizational tiers, including:
❏

Adding individual items

❏

Adding items by box

Adding boxes to separate locations
Vidder opens up with clear instructions and bullet points, showcasing the app's functionality. Because of this, it's easy to pick up on and allows you to jump right into organizing. Your belongings display in a visually pleasing grid of photos taken directly in the app or uploaded from your library. Productive and pretty!

BEST FOR ORGANIZATION
SCAN YOUR BOXES: See the Content of Your Boxes
Why We Love It: Fun and Functional QR Code Generator
The name of this app says it all! While Scan Your Boxes is a tad oversimplified compared to others on the list, it delivers what it promises. Open the app, generate a QR code, print and place the QR code on a box, and log photos and notes of the items contained inside. Next time you're looking for a needle in a self-storage haystack, just pull out your phone camera and scan away.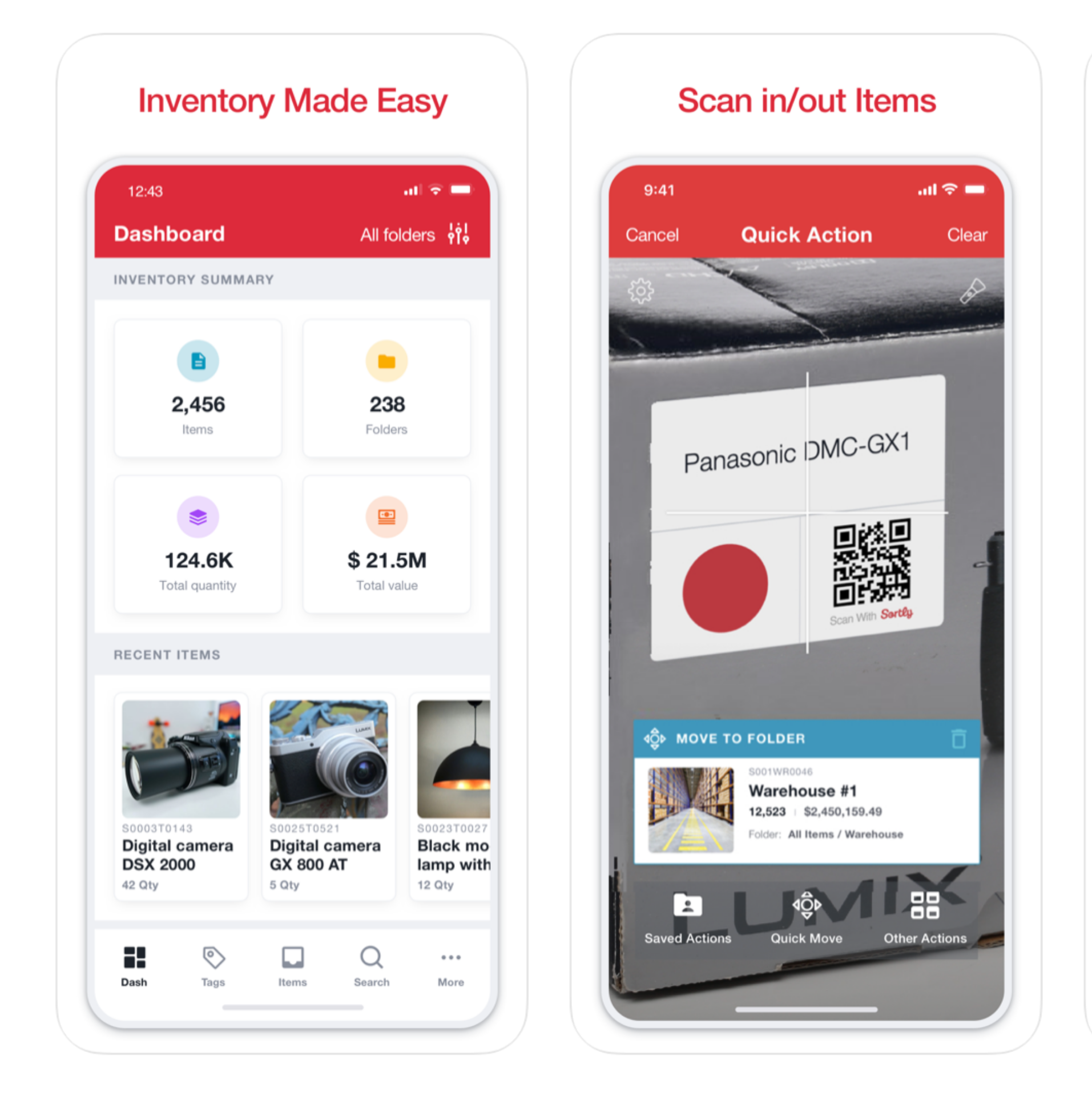 MOST FEATURES
SORTLY: Stay Updated Anytime, Anywhere
Why We Love It: Great for Collections | Low Stock Alerts
Sortly is a customizable inventory tracking app that helps you quickly organize the quantity, location, and condition of stored items. This app allows you to attach multiple tags per item and has a built-in search function, making it easy to find an item in a pinch. You can generate barcodes, QR codes, and status reports, making this app an excellent solution for small businesses.
BEST FOR BUSINESS STORAGE
STOCK CONTROL INVENTORY
Why We Love It: Designed for Business Owners | Great for Office Moves | Exports to CSV + PDF
When downsizing offices or merely moving a few streets down, managing office supplies and business inventory can be tricky. You've got items in boxes at the old office, new office, and your storage unit. Stock Control Inventory allows a company or individual to stay on top of stored assets and track multiple inventory locations at once.
Conceptualize and prioritize your categories

Refine quantity management of stored items

Monitor condition of stored items over time
BEST OVERALL
EVERSPRUCE: Inventory Storage Organizer
Why We Love It: Passcode-Protected Entries for Privacy | Quick Filter Options | Fun Design
Everspruce is designed for the homeowner who wants to tackle their overstuffed guest room or clear out space for a new hobby at home. When paired with a self-storage unit, this app will allow you to conquer that clutter and start living your best life.
In Everspruce, everything begins with a photo, including the initial step of photographing the whole storage room. Next, you photograph the individual box, then onward to the items inside. Having these nesting dolls of photos attached to item entries is a unique method for visualizing your unpacking process without visiting your storage unit.
Bargain Storage Is Digital Too!
In addition to offering online rentals and payments, we make it super easy to get to and use our website by formatting it as a Progressive Web App (PWA) so that it lives on your phone just like an app. Follow the below instructions to load it up!
iPhone: ⁠
📱Visit www.youraustinstorage.com⁠
📱Tap the Share button on the browser's toolbar — that's the rectangle with an arrow pointing upward. It's at the bottom of the screen. ⁠
📱Scroll right to tap the Add to Home Screen icon in the Share menu. ⁠
📱You'll be prompted to name the shortcut before tapping the Add button. ⁠
⁠
Android:⁠
📱Visit www.youraustinstorage.com⁠
📱Tap the menu button and tap Add to Home Screen. ⁠
📱You'll be able to enter a name for the shortcut and then Chrome will add it to your home screen.⁠
⁠
Final Thoughts
A self-storage unit is the ideal short- or long-term solution for getting organized during that stressful home or office move. Keeping an inventory of stored items will give you peace of mind and make the unpacking process a breeze — especially when technology makes it easy to track everything right at your fingertips.
At Bargain Storage, our facilities in Texas and Arizona offer clean and affordable storage solutions, including drive-up units for quick and easy access and climate-controlled options. Need help selecting the right size unit? Check out this helpful blog and size guide. Our FAQ and storage tips also might come in handy.
Contact us today for details!