Use your phone to track what you own! Living in the digital age allows us to use our phones to find a date (both the calendar and romantic types), call an Uber, get groceries delivered, record our sleep patterns, and even control our TVs. So, it's no surprise that there are also easy ways to tidy up and track our belongings. As the saying goes, whatever your need, "there's an app for that!"
Have you begun to embrace minimalism at home, Marie Kondo-style? Is your family relocating to a new home but taking their time getting there? Are you adapting to life in a smaller office, and perhaps even a home office these days? Whether you're taking steps to "spark more joy" or streamline your life (or both), the stuff you want to hold onto needs to go somewhere.
Thanks to the technical wizardry of phone apps, with just a tap and download, you'll be one step closer to organizing and dominating that daunting residential move, overwhelming office relocation, or long-term storage situation.
Search your phone's app store for "self-storage apps," and you may be surprised to find more choices than you bargained for. Luckily, we're familiar with many of these apps, so we've curated a short list of our favorites just for you. We know that coordinating a move or decluttering project is overwhelming enough; choosing a self-storage inventory app shouldn't be.
Our Top 5 Self-Storage Apps
BEST FOR DECLUTTERING
NEST EGG: Intelligent Inventory
Why We Love It: Barcode Scanner | Highly Customizable | User-Friendly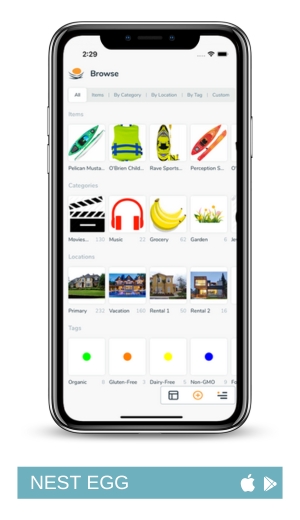 Nest Egg is a comprehensive, extremely user-friendly inventory app with convenient automation, like barcode scanning for easy item logging. Users can customize their experience and improve organization with colored labels, tags, categories, sub-categories, locations, sub-locations, and more! Plus, reorganizing is super simple, thanks to the batch edit feature.
Nest Egg is also an excellent resource for hobbyists and collectors looking to organize their storage unit because it allows you to input the item's value in addition to up to 10 images per item — perfect for logging item quality. You can also track serial numbers and log warranty and insurance information. Plus, you gain peace of mind with easy cloud backups of your data, so you never lose all the work you put into organizing your items!
If packing up and storing clothes is in your future, utilize this app to catalog apparel, shoes, and accessories while optimizing decluttering. Nest Egg can estimate an item's donation value, making it easy to clear clutter while creating an expertly organized self-storage inventory.
Several impressive features make it feel like a more "intelligent" storage inventory app. If you've been tracking items the old-fashioned way, this app supports CSV importing and exporting. Nest Egg is currently available in 32 languages, including English and Spanish.
BEST FOR ORGANIZATION
BOXORGANIZER: Organize Just Everything!
Why We Love It: Fun and Functional QR Code Generator That's Easy to Use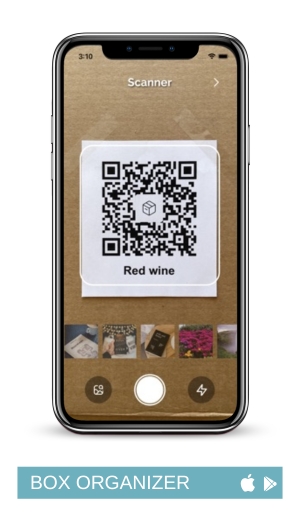 The name of this app says it all! BoxOrganizer delivers what it promises — a straightforward way to organize your boxes! Open the app, pack virtual boxes corresponding to real-life boxes, and instantly generate a printable QR code for the box. Then print the QR code, stick it to the real-life box, and store it until the next time you need it.
Upon download, after a helpful guided tutorial, the app prompts you to create "projects" that you place boxes inside. That way, you can easily organize projects by location, purpose, or whatever else you'd prefer. Once you create a project and add your first box, you virtually "pack your box" with photos and notes about the items inside.
When you're ready to look up what's inside a box, use the app to quickly scan the QR code pasted on its side and instantly know what's inside! Taking the guesswork out of organizing multiple boxes makes maintaining a self-storage inventory uncomplicated and, dare we say, fun.
BEST FOR PROTECTING YOUR BELONGINGS
ENCIRCLE: Home Inventory
Why We Love It: Makes Insurance Claims Easy | Well-Designed Photo-Taking Interface
Encircle is an app originally designed with insurance adjusters and contractors in mind. However, it can be an exceptionally handy tool for personal use. When you sign up, the app allows you to select whether you are a homeowner, contractor, or insurance professional.
The app streamlines photographing, taking video, labeling, and tracking item value, and is accessible from phones, tablets, and the web. That makes it easy to log any item's condition and access your list on the go — like on a trip to your storage unit.
Creating an inventory of the items in your storage unit can save you from a major headache down the line. In the event of unexpected damage, having organized documentation with notes and visuals organized by category makes filing insurance claims much simpler and less stressful at an already overwhelming time. But, hopefully, you'll never need to use your self-storage inventory list for that purpose! Either way, this app is a convenient organizing tool.
BEST FOR BUSINESS STORAGE
SORTLY: Stay Updated Anytime, Anywhere
Why We Love It: Great for Collections | Low Stock Alerts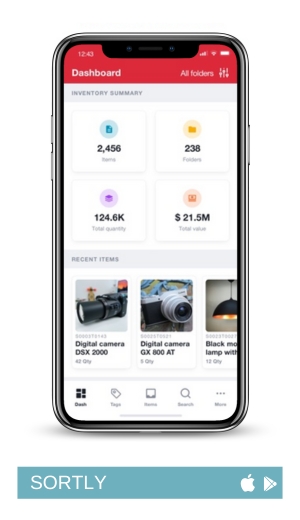 Sortly is a customizable inventory tracking app that helps you quickly organize the quantity, location, and condition of stored items. This app enables you to attach multiple tags per item and has a built-in search function, making it easy to find items in a pinch. You can generate barcodes, QR codes, and status reports, making this app an excellent solution for small businesses.
There's no question why this app has been featured in Forbes, ABC news, Inc., and other reputable publications. Its comprehensive features work well for personal or business use, making the experience and price-point customizable based on each user's needs. A unique feature of Sortly is the ability to let teams access the inventory rather than just one user. Share select lists or the entire inventory — it's up to you! Device accessibility is another winning feature of Sortly; you can access the app on the web, a tablet, or a mobile device! To make it even more business-friendly, when you're ready to generate and share reports, you can export them to CSV, PDF, or Dropbox.
No matter where you are or what connection strength you may have (storage buildings are notorious for poor cell service), Sortly allows you to log items even when you're offline. And you can recover lost data within 90 days, which can be a saving grace.
Sortly is built to be up and running in minutes, so don't worry: There's no need for complex training.
BEST OVERALL
EVERSPRUCE: Inventory Storage Organizer
Why We Love It: Passcode-Protected Entries for Privacy | Quick Filter Options | Fun Design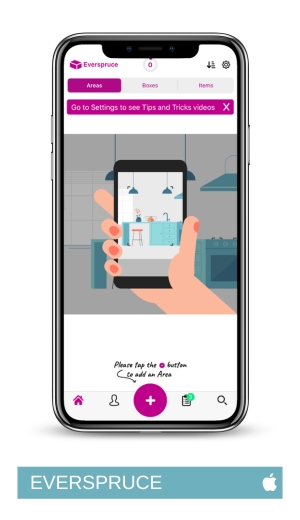 Everspruce is designed for the homeowner who wants to tackle an overstuffed guest room or clear out space for a new hobby at home. When paired with a self-storage unit, this app will empower you to conquer that clutter and start living your best life.
In Everspruce, everything begins with a photo, including the initial step of photographing the whole storage room. Next, you photograph the individual box, then onward to the items inside. Having these nesting dolls of photos attached to item entries is a unique method for visualizing your unpacking process without visiting your storage unit.
This app combines the best features of its competitors into a powerhouse for personal organization — batch-edit entries, track item quantities, search custom labels, export to PDF and CSV, and generate printable QR codes to track your items. Everspruce does it all in a user-friendly, secure, and cloud-backed package. The best feature? Subscribers can use the app on unlimited devices, making it easy to organize by yourself or with a group.
Final Thoughts
A self-storage unit is the ideal short- or long-term solution for getting organized during that stressful home or office move. Keeping an inventory of stored items will give you peace of mind and make the unpacking process a breeze — especially when technology makes it easy to track everything right at your fingertips. So download one (or all!) of these apps, dive into your pile of stuff, and make tracking your self-storage inventory less of a headache. Embrace the power of automation to make organization simple!
Steve Reed has over 30 years of experience in the technology sector and is the Director of IT for Business Property Trust, a real estate investment firm located in Portland, Ore. that owns and manages covered RV and self-storage in Arizona and Texas. He also manages digital resources and content for businesses including realsimplebusiness.org.