When we think of a storage unit, the first association for most people is clutter and anxiety. No matter how much we "run away" from organizing the storage, it always gets to us. We inevitably spend a few hours or even days until we thoroughly organize the storage unit. Yet somehow, the clutter always seems to build up quickly again. Whether you have just moved, are moving, or simply haven't tidied up your storage unit in a long time, this article will be helpful because you'll find the pro packing guide to keep your storage unit clutter-free by reading. We hope it will be helpful and that you will no longer have problems with clutter in your storage units. Keep in mind that while packing for storage might be difficult, the results are worthwhile.
You'll be satisfied with the entire procedure and sleep like a baby knowing that your goods are stored securely and adequately if you follow the following instructions.
1st step in the packing guide to keep your storage unit clutter-free
The first step before all steps is mental preparation. Seriously, mentally prepare yourself to spend the next time tidying up your storage unit. Make a good playlist and get to work. Good organization is the key to everything. If you do everything out of order, you will surely forget something. Therefore, our first step in the packing guide to keep your storage unit clutter-free is a good organization. Take a piece of paper and a pen and write everything you need. Without some things, you won't be able to start tidying up.
What we advise you to get are the following items:
- Boxes
- Stickers
- Cracked foil
- Packing tape
All these things are more than necessary for you. To organize everything properly, you need boxes and packing tape. Remember that when you buy boxes, you get boxes of different sizes, from the smallest to the big ones. Before buying the boxes, write a plan according to which you will organize them. You may also want to explore the benefits of climate-controlled units.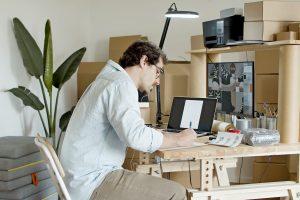 If you want everything to go smoothly, you need to follow the packing guide to keep your storage unit clutter-free.
Alt: Man with glasses carefully writing down and following the pro packing guide to keep your storage unit clutter-free.
The second step is to sort your possessions
We also mentioned this step under the first one. Knowing what you want to keep, what to give away, and what to throw away is essential. If you have the opportunity, avoid throwing things away and donate them to humanitarian causes. To ensure that you don't forget anything, write everything down. Make three lists:
Keeping it
Giving it away / donating
Throwing away
The complete arrangement of the storage unit will be based on these lists. Thus focus while making these checklists as experts at nextstopmoversraleigh.com advise you. By checking on them, we are sure that packing and deciding how to sort things will be much easier.
Stuffing smart is a crucial step in the packing guide to keep your storage unit clutter-free
We are aware that this step is overused. You are probably conscious of the need to pack carefully to prevent more clutter in your storage spaces. Because of this, we've made this step simpler so that you can understand it better.
Specifically, packing entails:
Mark all the boxes

Wrap sensitive items

Don't fill the boxes to the top

Place heavier items at the bottom and in smaller boxes
Make things simple by labeling every box with stickers or, if you don't have stickers, by writing what is inside with a marker. Make packing fun and simple without adding any extra challenges. For this precise reason, envelop any fragile items in paper before storing them; you don't want to shatter them. It may seem unusual to you that we advise leaving some space in the boxes, but it's better to have extra than to run out. Besides this, you never know what can show up at the end, and you will need to place this item in a box that still has a "free" room.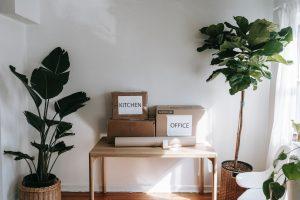 You must mark your boxes so that later you know where everything is.
Alt: Marked boxes with labels ''kitchen'' & ''office.''
Maximizing space in a storage unit is the fourth step in this process
Maximize the space in your storage container to keep your stuff tidy and clutter-free. Here are some tips on how to make the most of the space in your storage unit:
Arrange objects vertically: To save space, store things vertically wherever possible. For things like lights, seats, and bicycles in particular, this is crucial.

Furniture that is being stored should be disassembled to conserve room.

Use stackable boxes to maximize the amount of space in your storage facility.
Make a floor plan
As we've already stated, it's crucial to have a strategy to finish the procedure as quickly as possible. Because everything is so well-detailed, this packing guide should be incredibly useful in keeping your storage unit clutter-free. The creation of a floor layout is essential. The most vital element is unquestionably to measure your storage container.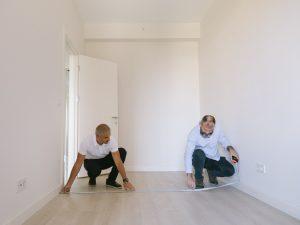 Measuring the complete unit's dimensions will help you organize yourself better.
Alt: Two guys measuring the floor dimensions.
Measuring the dimensions of your storage unit
To create a floor plan and make the most of your space, measure the dimensions of your storage unit. Here are some pointers for taking your storage unit's measurements:
Make sure you have one measuring tape

As well as the floor, take the height measurements of the storage unit. Gauge the sizes of literally the whole space.

Write all these measurements on paper (as with everything else).
This step is one of the most important because, in this way, you will undoubtedly avoid additional clutter or lack of space for your things. There are some things that you should keep away from your storage unit. Therefore, it is essential to pay attention to that as well.
A packing guide to keep your storage unit clutter-free will help you in the long term
Following the steps from this article, this packing guide to keep your storage unit clutter-free will help you. Once you try to organize your storage room by following these steps, this will become your favorite thing to do. Learning how to pack your items for long-term storage is very important. Although packing for a storage unit might seem complicated, you can make the process simpler and more organized, according to an expert packing guide.