True story: We've planned for a while now to write an article about easy home organizing tips, tricks, and hacks and how Bargain Storage can offer solutions for your off-site storage needs. De-stressing and decluttering are relevant topics that connect to the services we offer (spoiler alert: see the end of this article for how we can help). Everyone's a winner, right?
Well, riiight. Except we didn't realize just how relevant a topic this would be until 2020 happened. As of this writing, the US has experienced various shutdown degrees as we attempt to flatten the COVID-19 curve.
If you're reading this, you've likely spent at least six months working from home. That's plenty of time to become more proficient in Zoom and, unfortunately, to live in increasingly cluttered rooms. And now we've got the holidays right around the corner.
We feel you. We get you. Because we're in the same boat.
We want to provide our Bargain customers with real information you can use. If we're going to write a home organizing article, you need it to be really extra. Because let's face it, we're all extra tired, extra stressed, and generally just extra over 2020.
So, in the name of being helpful and caring, two of our core values, it's time for a little pandemic pep talk:
It's been a heck of a year. Being cooped up at home is draining, but it's also the perfect time to tackle those home organizing projects you never quite had time for "BC" (Before COVID). If only you had the energy to tackle it, but you're so exhausted!
Guess what? You're totally allowed to do what you need to do to get by. Get your work done, keep the kids fed, fall onto the couch for a little TV binge and online shopping, and then do it all tomorrow. It's OK!
Still, at some point, you'll need to do some responsible adulting and bring your ship into some shape before you drag out the holiday decorations. (More clutter, ugh!)
Also, know this: you're not alone. Why do you think shows like Netflix's Get Organized with The Home Edit are so popular? Watching Clea and Joanna rainbow-code dried pasta and alphabetically sort spices has become a national form of self-soothing.
So, if reading this gives you an extra measure of motivation to get up, blast "Eye of the Tiger," and scour your house, hold up a second. The quickest way to self-sabotage your organizing and decluttering efforts is to put the pedal to the metal.
Organizing your home at this time of year, especially this year, can feel daunting, so tread gently. And take baby steps. There's no need to blow all your energy on a power-cleaning session or your entire paycheck at The Container Store. Neither is sustainable.
Instead, let's focus on moderation and modified behaviors to move you closer to your goals. Then, we'll introduce some inexpensive and recycled items to get your home in order. True to our Bargain name, when we do recommend products, most are under $30.
OK, pep talk over! Let's dive into some practical tips, tricks, and hacks to organize your home and de-stress your life right now. In this article, we'll share:
4 easy practices to free up time and space

10 simple tricks to conquer COVID clutter

5 decluttering D-I-Y-namos

A big way that Bargain Storage can help


4 Practices to Free Up Time + Space
You don't need superhuman strength to clean up your home. You just need some smart tactics to make the task more manageable. Here are our four favorite techniques:
8-Minute Rule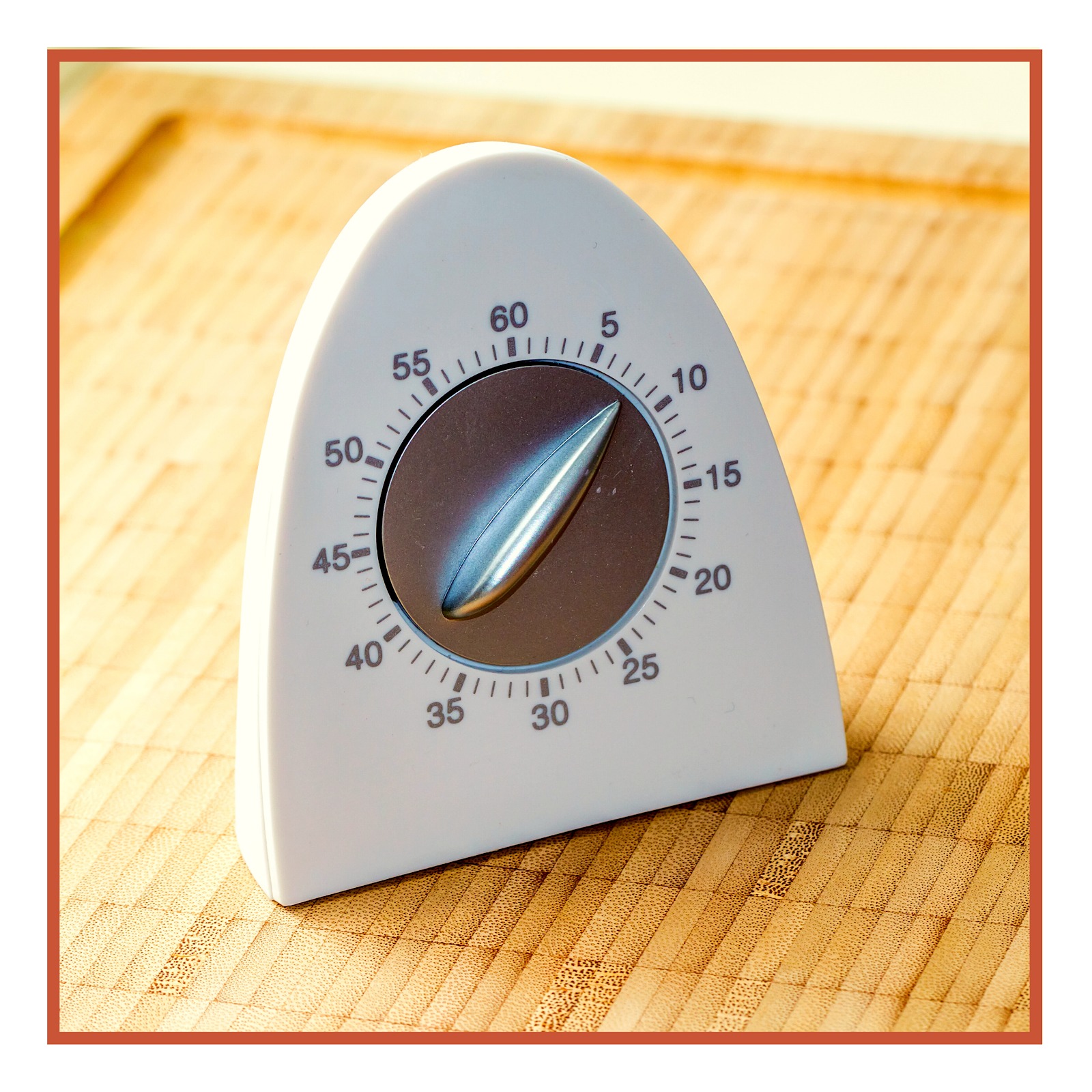 Don't let overwhelm overcome motivation and leave you with a severe case of "analysis paralysis." A quick, efficient way to get past this cleaning conflict of interest is to engage in small cleaning spurts.
Enter the 8-Minute Rule. Set an alarm for eight minutes of focused cleaning and organizing, and see what you can accomplish. Really put your mind to it. You can also utilize the 20/10 Method — organizing and cleaning for 20 minutes, followed by a 10-minute break.
Just One Thing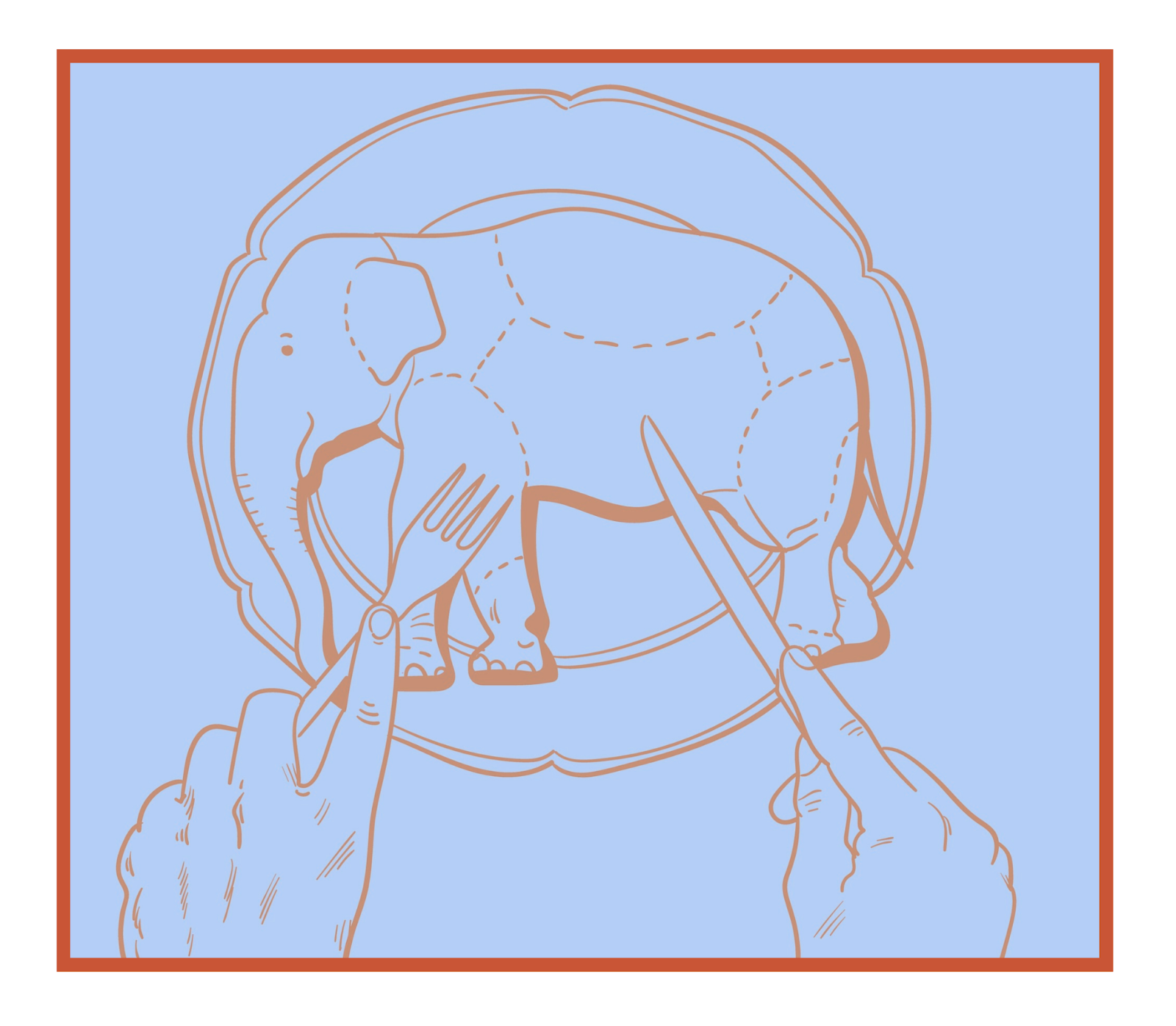 It's said that it's best to eat an elephant one bite at a time, and this sentiment is valid here. Take a minute to identify just one thing you no longer need or is broken to throw away, recycle, or donate.
The good news? If you're feeling extra low energy, tossing one old pen that no longer works or replacing the batteries in the TV remote counts. We're all about boosting self-esteem with quick wins.
Want to take it to the next level? Practice this little exercise every day. By the end of the week, you'll have rid yourself of at least seven items — and we promise you'll feel lighter for it.
Touch Things Once
Have you considered how much you handle things when you put them away? Save time, increase efficiency, and minimize clutter by using the "touch things once" practice conceived by productivity consultant Ann Gomez of Clear Concept Inc. It's what it sounds like: When you're cleaning, try to touch it (read: deal with it) once. Make a game of it. When you're done with dinner, bypass the kitchen sink(hole), rinse those dishes, and put them into the dishwasher.
We're sure you can think of other scenarios where this rule would be helpful. For example, hang up clothes instead of letting them pile up, sort mail as soon as you bring it inside, etc.
One-In, One-Out Rule
This is the classic "out with the old, in with the new" approach. It's OK to say "yes" to buying new things, especially for items that need to be replaced. Life is about balance and cycles. So, for every new "yes" you say to, like a new sweater or book, respond with a loving "It's not you, it's me! But we sure had a good run!" to an item you can toss or donate.
Bonus Hack: Before & After Photos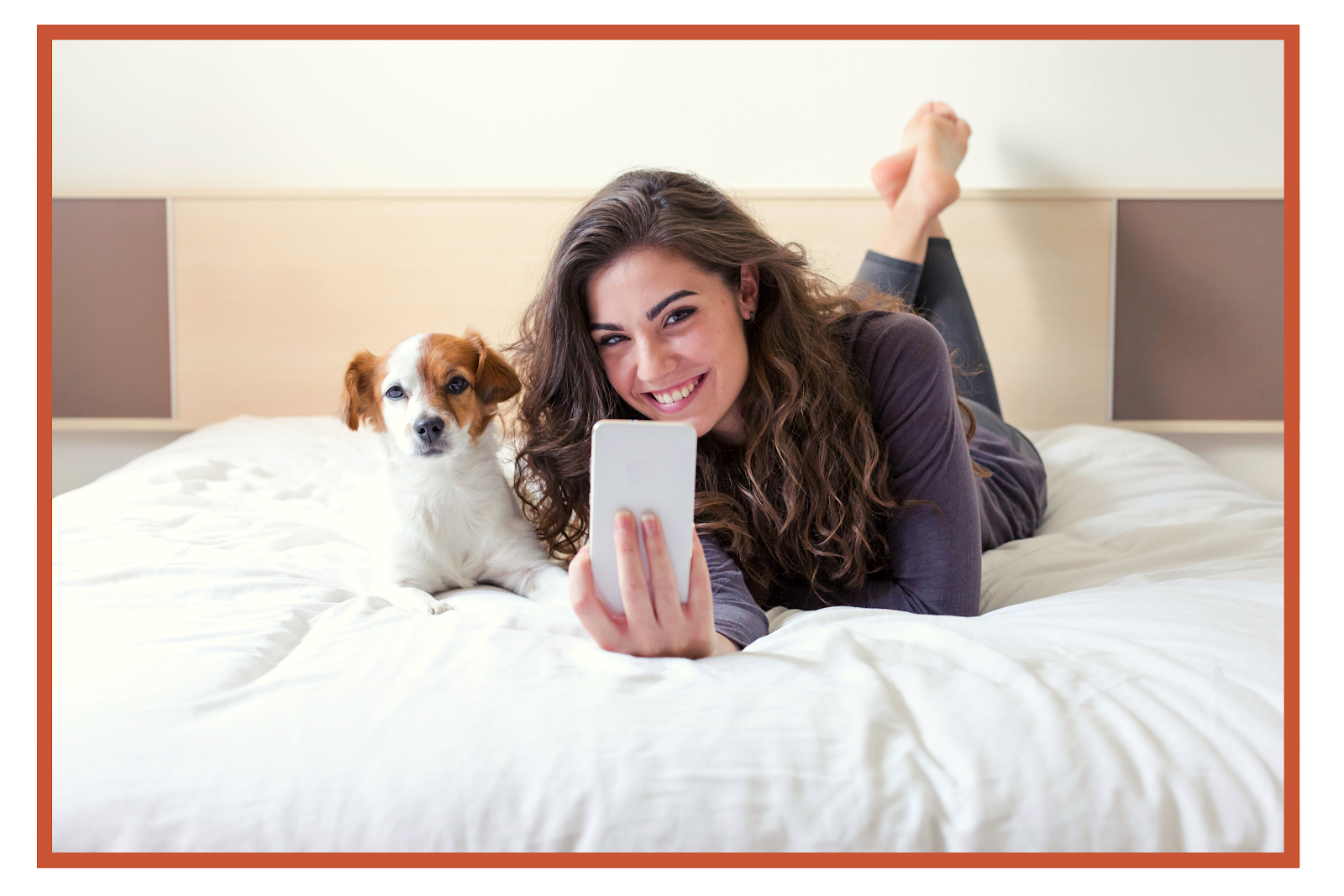 There's nothing like a good before-and-after photo session to inspire you. Choose one small area of your home, like your messy bed, and take a photo of it before cleaning it up.
Challenge yourself to change your sheets and make the bed in 8 minutes (see further up for the 8-Minute Rule). Take a moment to fluff up the pillows and smooth out the duvet cover.
Then, take an after photo and compare it with your before picture. Once you see how great this one space can look, it becomes easier to start decluttering more areas of your home.
Next, post those before and after photos to your social media. Your friends are sure to chime in with praise and cheer you on to keep going — and then plead for you to come to their house to help them do the same! Plus, your future self will thank you when you crawl into a clean, comfortable bed for a good night's sleep. (Ahhh, such bliss...)
Our Top 10 Tricks to Control the COVID Clutter
Now that you've got some good practices to start, well, practicing, let's apply them to some of the most-used areas in your home. Just remember to go at your own pace, perhaps focusing on one or two of these areas a week.
Stage a Clean home Entry Point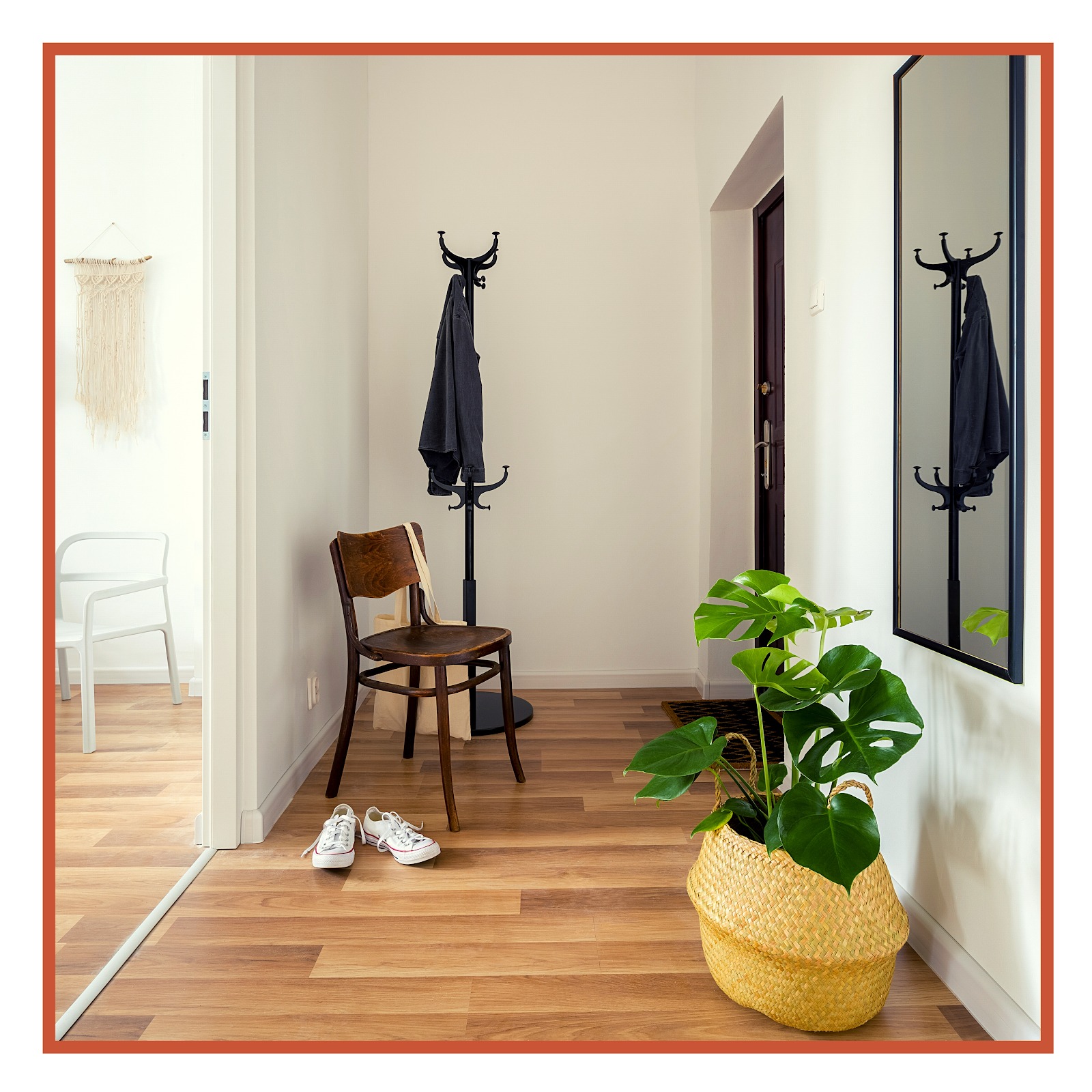 Your home should be a safe haven from the outside world, and now more than ever, it needs to be a clean and healthy one. So, first things first. Set up your home's main entry point — whether that's your front entrance, laundry room, or mudroom — as a comfortable and tidy space for slipping off your shoes and storing your bags and coats.
Keep some homemade disinfecting wipes and a small trash bin nearby if you need an extra wipe-down before entering what will become your progressively cozy sanctuary.


Utilize Inside of Doors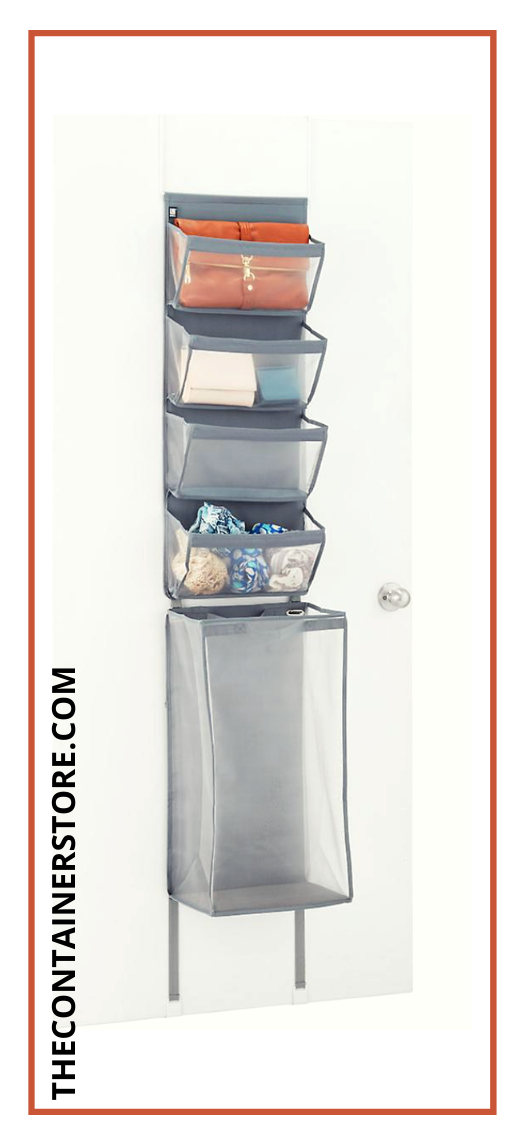 We all know we can store things behind closed doors, but how often do we remember that we can put stuff on the inside of closed doors? Our next tip highlights utilizing vertical space, and this might just be the "OG" of vertical victors — right behind the Murphy bed. Whether you use the old stand-by of a vinyl shoe organizer or a more expensive track system, get more use out of that door! We love this affordable option from The Container Store.
Maximize Vertical Space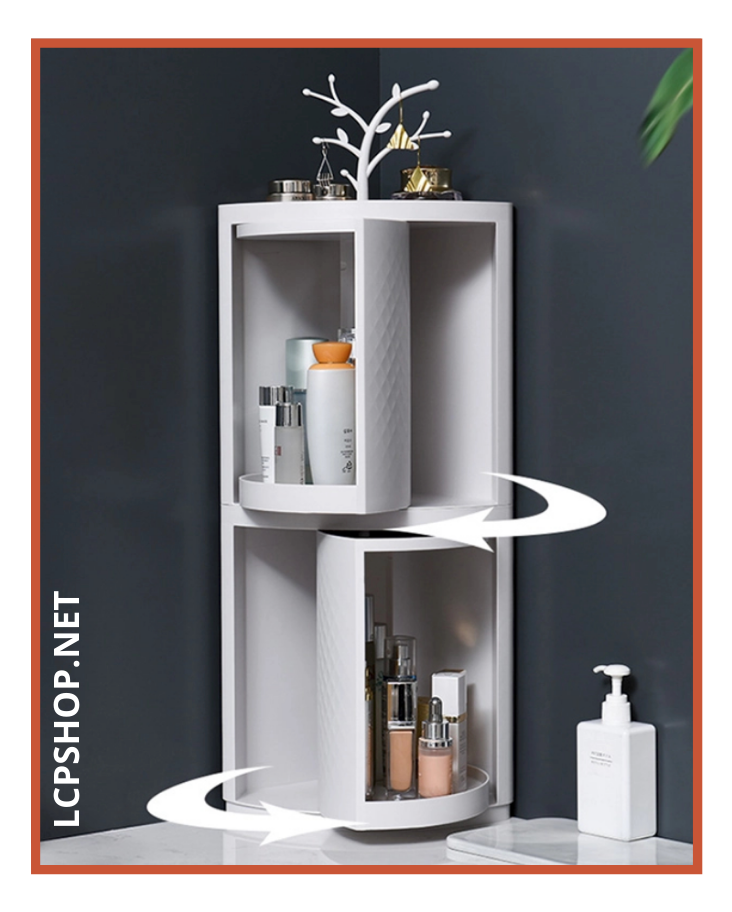 Looking for another great way to capture vertical space? Bathroom countertops are a great place to find it. Stack a couple of inexpensive bins with drawers to hold makeup and toiletries or splurge a little for a more decorative, double-decker organizer like this swiveling, sleek beauty.
Leverage the Usefulness of Labels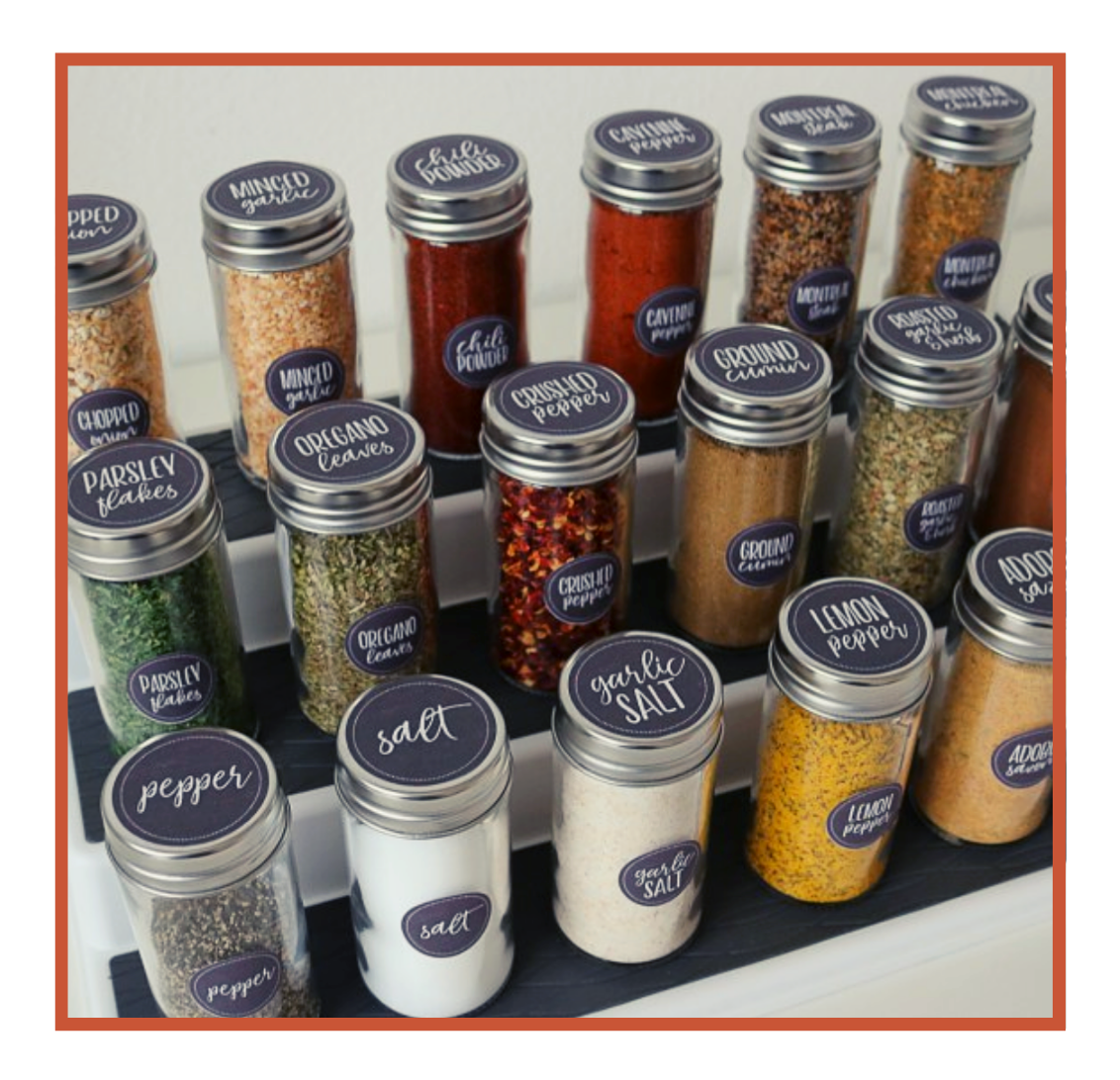 Labels may feel like overkill, but they're a great way to quickly visually ID things in your home. And, it may seem like a tedious chore to label allllll the things, but you'll be so glad you did when you need to find something fast. We love this Brother P-Touch Label Maker, making it easy to create great-looking labels for your home, home office, and home-based schoolroom. The uses are endless: drawer tops, bins, pantry goods, spices, files, toys, and so much more.
Tame Your Countertops with a Counter Tray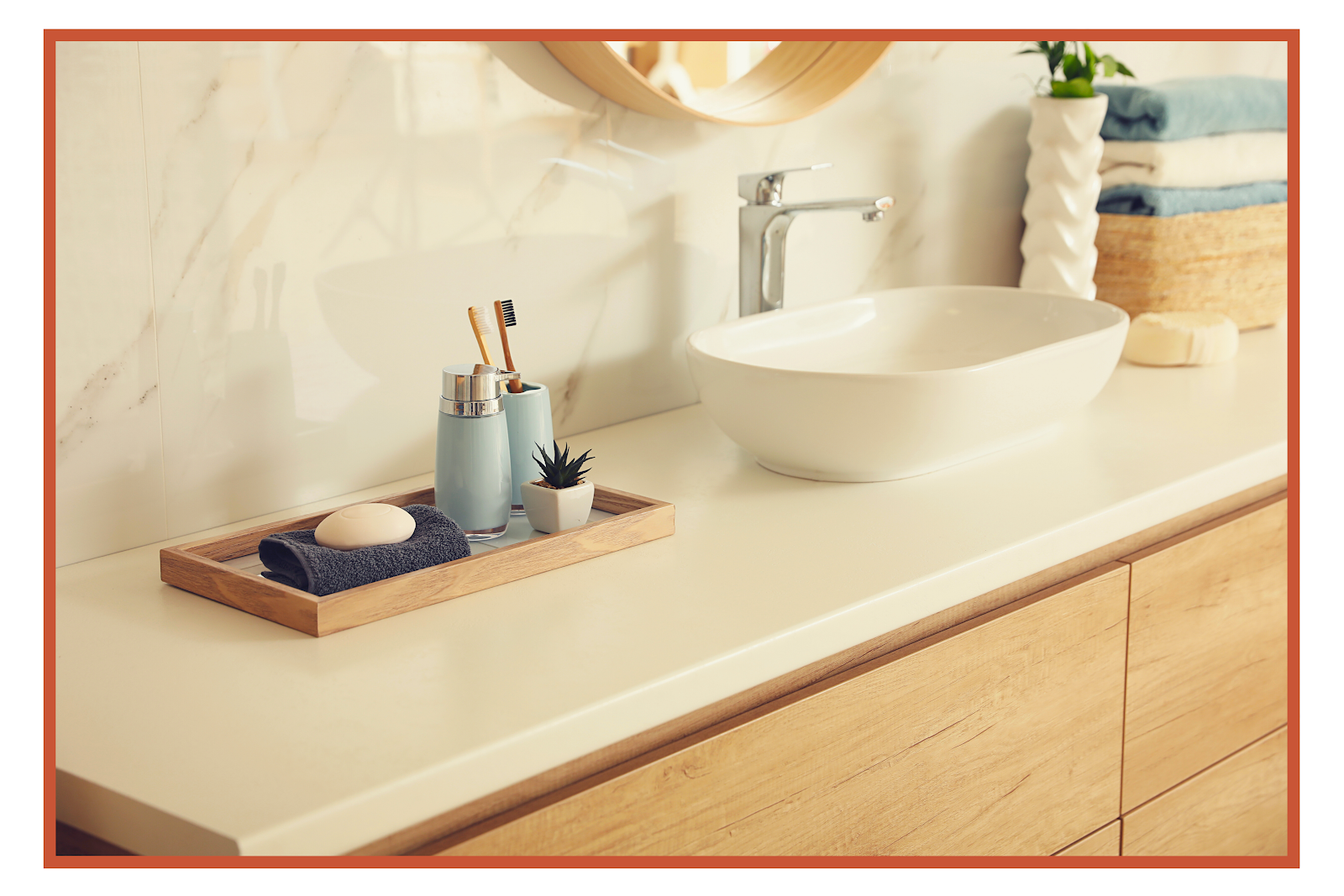 Fact: Items multiply and migrate when left to their own devices on flat surfaces. Corral those cluttering culprits with a small counter tray. We've found so many uses for them: Set one next to your stove for your most-used spices, or place one on your couch's side table to serve as a home for the remote, your glasses, pen and paper, nail clippers, etc.
Hang Those Hooks to Maximize Wall Space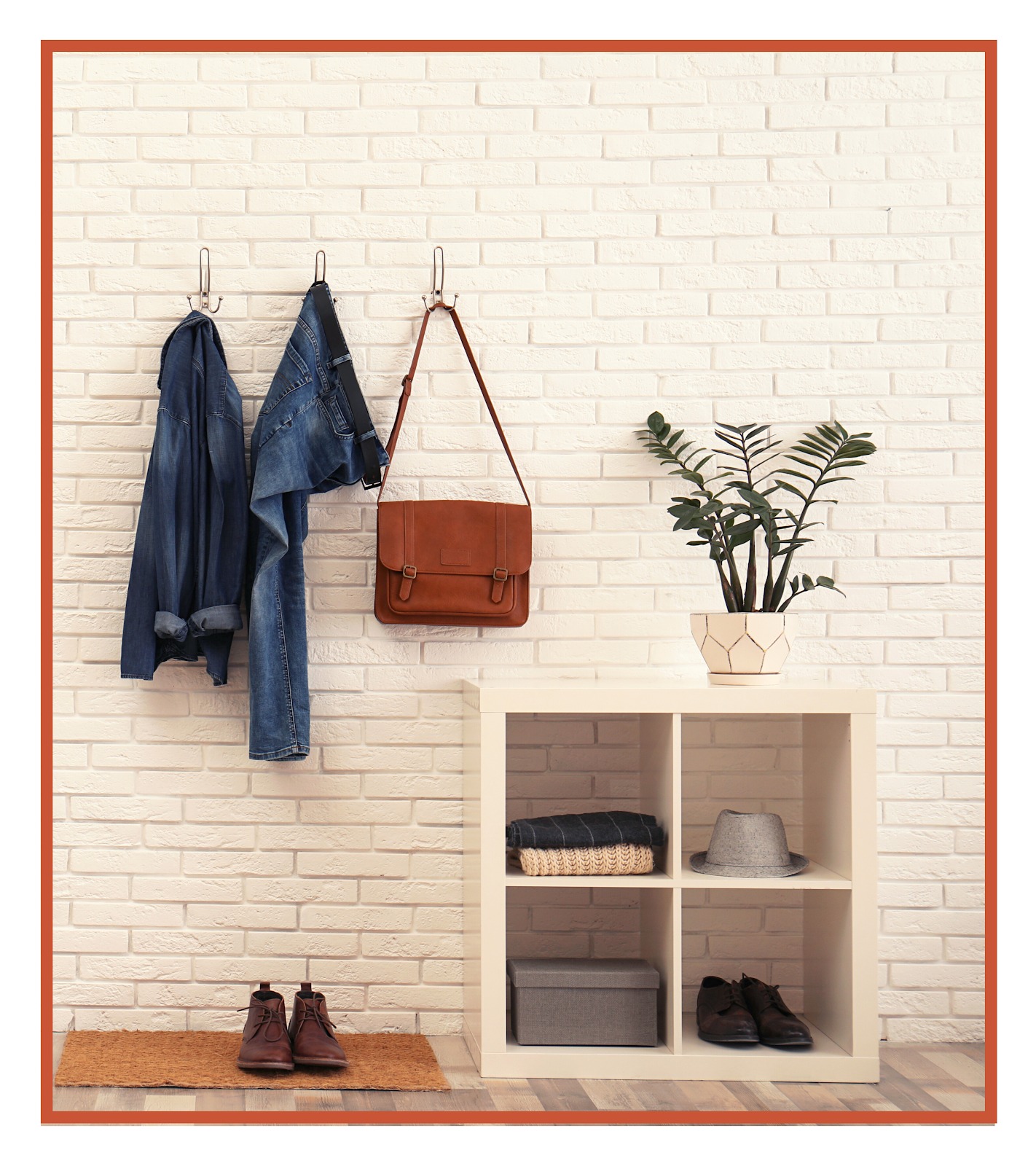 Hooks are another excellent example of how to use your vertical space to get things off the ground and out of your "floordrobe" pile. If you don't want to put holes in the wall, then Command hooks are your new BFF.


Keep Clear Bins in Kids' Rooms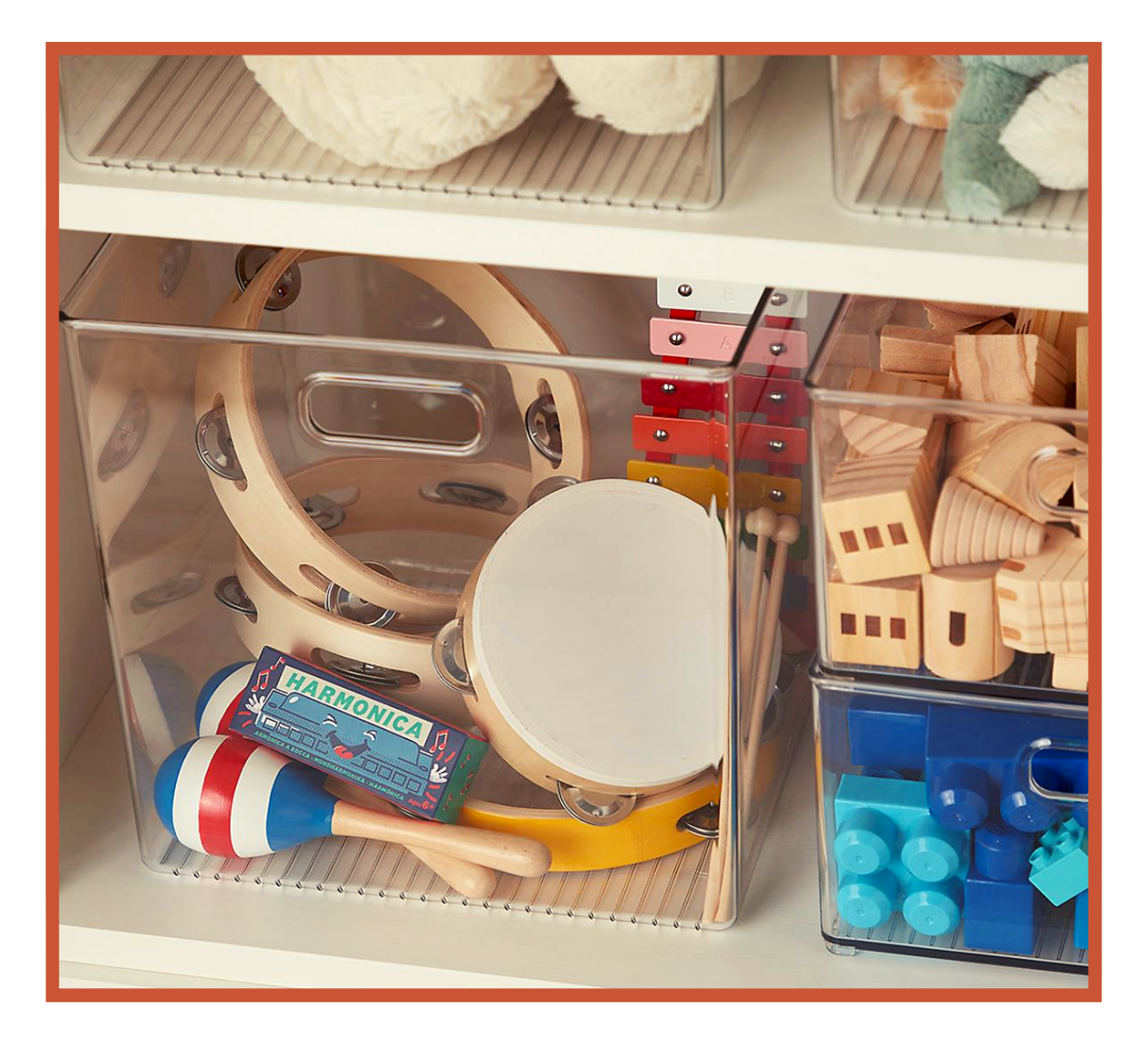 There are few places where "out of sight, out of mind" is more relevant than a child's bedroom or playroom. This might be a good thing for some toys (harmonica or talking doll, anyone?) but not so great if you want your child to play with a wide range of their toys instead of just their favorite few. These clear bins help keep your kids' things organized, visible, and easy to clean up after playtime.
Move Castoffs to the Car
If you've managed to do some organizing and now have bags or boxes of things to run to the dump or donate, then hooray for you! But, well-intentioned clutter is still clutter. Instead of letting these items stack up by your back door, go ahead and move them to your car trunk for easy offloading the next time you're out and about. This trunk organizer makes it easy to keep things from toppling over if you take that left turn a little too quickly!
Clear Bins in Fridge
Fridge bins are gaining popularity, thanks to organizing pros on TV and social media showing us how to customize our crispers. Just like in kids' rooms, clear bins create a revamped refrigerator or freezer storage system that works for you. Our top 3 bin organizing tips:
1) Group like items, like small condiments, together.
2) Create a kids' snack station on the bottom shelf.
3) Move your produce out of the crisper to eye-level so that you enjoy it instead of having to toss it!


Create A Command Center for Small Home Supplies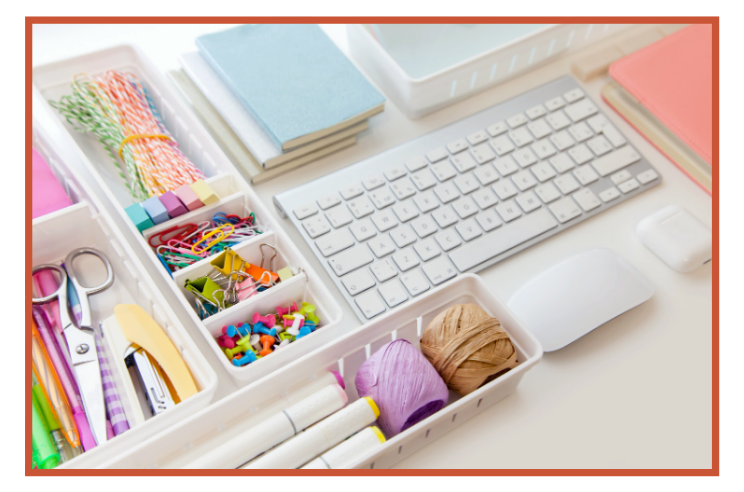 Suppose you or your significant other and kids are all working and schooling from home these days. In that case, you have a greater need than ever for organizing supplies like tape, scissors, thumbtacks, paperclips, stapler, Post-It notes, and so forth. Instead of digging these items out of multiple places, set up a proper command center to neatly store everything in one place. The infamous kitchen junk drawer is a common culprit for collecting some of these items. Read this to whip it into shape in just 30 minutes!
5 Decluttering D-I-Y-namos!
Feeling inspired but don't want to run to the store to buy yet more stuff for your cluttered home? Do a quick scavenger hunt around the house for items that aren't earning their keep. Then, give them a second life with these creative uses:


Shower Curtain Rings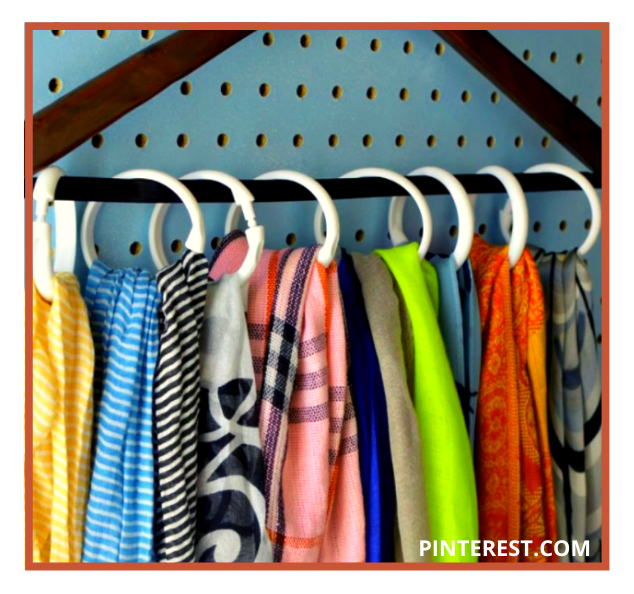 Hang shower rings from a hanger, and use them to hang belts, tank tops, scarves, baseball caps, ties, or anything else that doesn't need its own individual hanger. You'll save a lot of space in your closet, and your accessories will be easier to find too!
Old Bread Bag Tags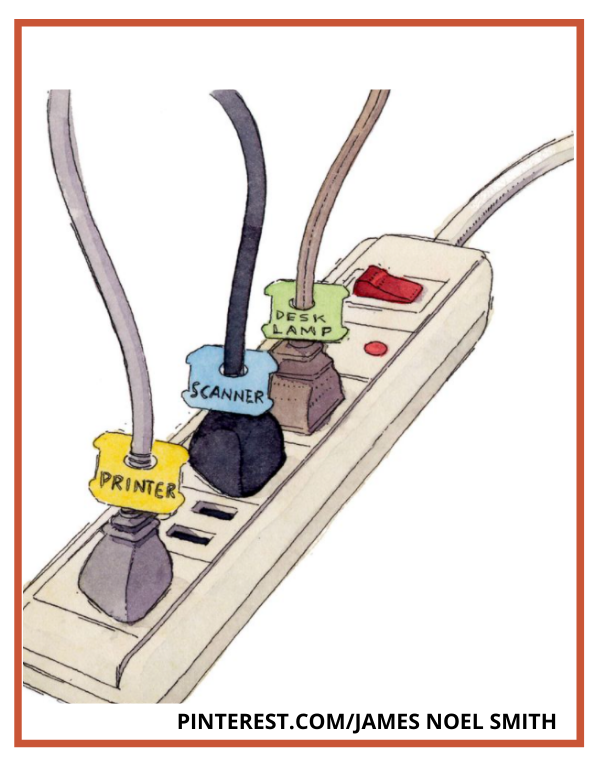 Imagine never having to ask the question again, "Now, which device does this go to?", as you try to trace tangled cords from the power strip back to their sources. It's possible with leftover bread bag tags and a Sharpie. (It's true, the little things really can make us happy!) #brilliant!
Muffin Tin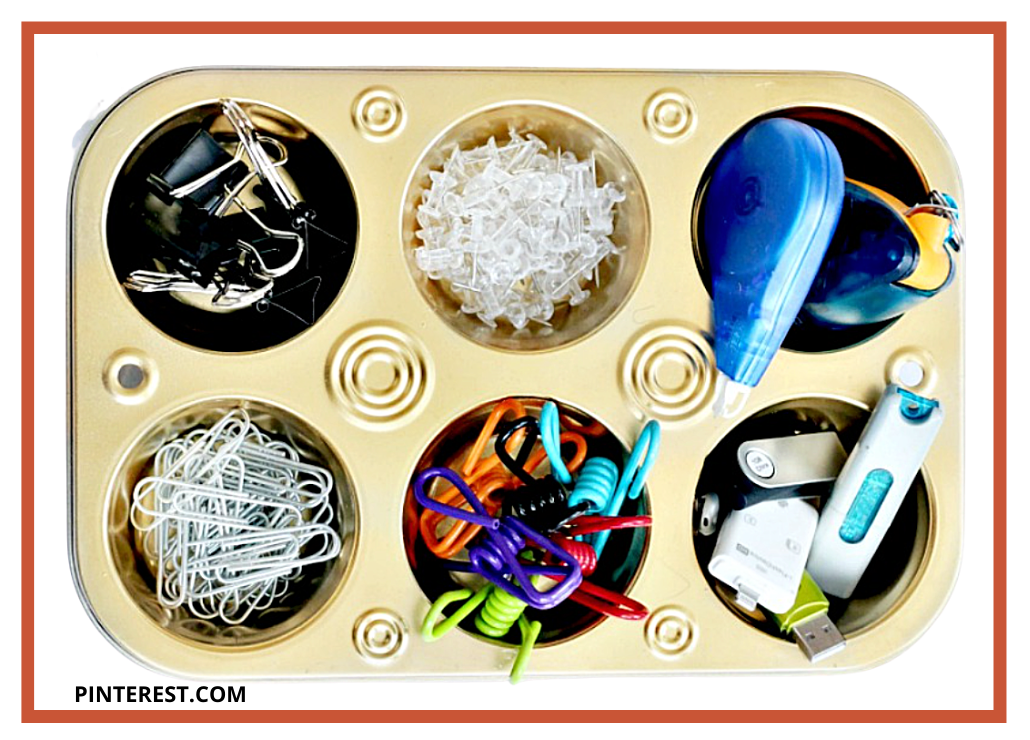 Remember when you learned one of your friends had a hidden talent that blew you away? That's how we feel about our friend, the muffin tin. With its
many organizing uses
, the possibilities to keep life a bit more orderly almost outshine this tin's original purpose. Notice we say "almost outshine." Because muffins (or cupcakes, yum!).
Toilet Paper or Paper Towel Rolls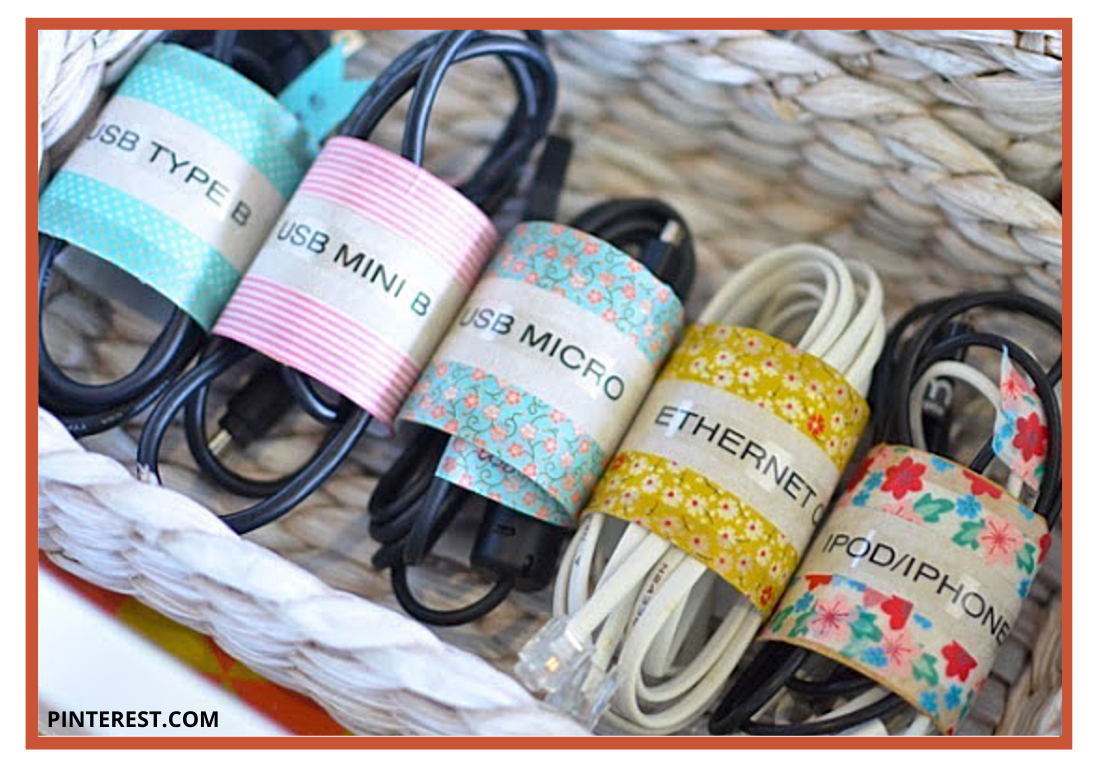 Don't toss those toilet paper or paper towel rolls. They make clever "cord corrals" for your electronics. Use them as-is, or dress them up with colorful washi tape and labels. Because the only thing better than a free and functional organizing tool is a pretty one!
Tension Rods
We saved our most versatile, hardworking friend — the humble tension rod — for last. It's inexpensive, removable, and fits the gaps that other DIY hacks can't fill. And, it's polite enough not to do damage to the areas where you need it most. There are far too many uses to count but here are two of our favorite applications:
Vertically position to separate cutting boards and cookie sheets.

Horizontally place to create a makeshift shoe rack!

Stay Organized with Bargain Storage
So, how did you do? Did you conquer some areas that have been bothering you? If so, you hopefully can breathe a bit easier and navigate your home in a way that feels more peaceful and set up for your current needs.
If — after putting some of our organizing tips, tricks, and hacks into practice — you need a place to store some things you're not ready to permanently part with, then look no further than Bargain Storage.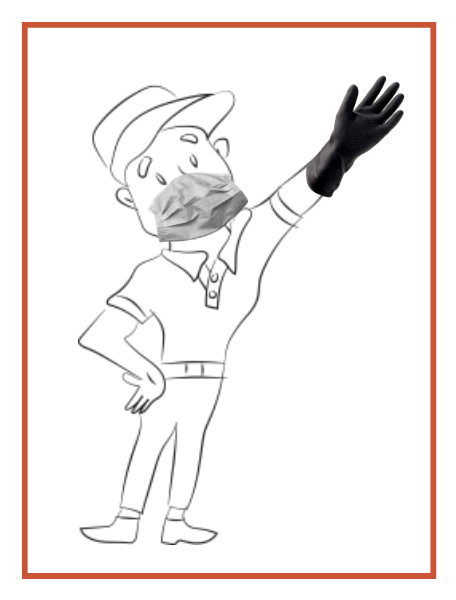 Our facilities in Texas and Arizona offer clean and affordable storage solutions, including drive-up units for quick and easy access and climate-controlled options. We're also diligent in keeping our facilities extra clean and our customers and team members safe while also delivering the best customer experience possible.
If you are practicing of social distancing, please remember that you can rent a storage unit online (select your location first) through our website, set up automatic payments, or call our office and make a payment over the phone.
We're always glad you're here, we care, and we offer good bargains that don't cut corners. We're also here to help. Need help selecting the right size unit? Check out this helpful blog and size guide. Our FAQ and storage tips also might come in handy. Contact us today for details!
Related Articles
Find this article helpful? Here are a few more to keep in mind as you conquer the clutter or even consider a move during this time:
6 Simple Tips for a Safe and Seamless Move During a Pandemic
5 Apps That Make Creating a Self-Storage Inventory a Snap
10 Things That Can and Can't Be Stored in a Self-Storage Unit
The Ultimate Guide to Relocating During COVID-19