Texas, currently the second most populous state in the country, is home to warm weather, diverse populations, and a melting pot of cultures. Among many attractive attributes, the State's affordable housing costs, quality educational institutions and excellent business opportunities appear to be top drivers behind Texas's increasing population and the reasons people are moving to Fort Worth in particular. One of the largest metro areas in the state, Dallas Fort Worth, is predicted to lead the nation over the next decade in number of new residents.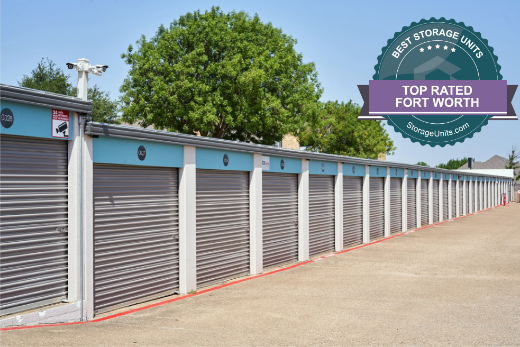 As relocation to this area increases, we find that support services like self-storage are essential in helping many people through their transition. Bargain Storage is honored to have been serving customers in the Lone Star State since 2014, growing with the area and providing a valuable service to many of its most popular suburbs.
Among Bargain Storage's five Texas locations, you will find a hidden gem of a self-storage facility in Fort Worth off the Eastchase Parkway, just north of the I30 Tom Landry freeway near the Fort Worth / Arlington border. A standout success in 2020, Fort Worth Bargain Storage was recognized by multiple organizations as one of the best in the storage industry. Along with earning an A+ rating from the BBB, the Fort Worth location was one of 11 businesses in the region to receive the 2020 Central Texas Better Business Bureau Torch Award for Marketplace Ethics, earning recognition for its impressive reviews, customer service, and emphasis on developing team chemistry among employees. The location also earned spots in the top rankings for best storage facilities from websites StorageUnits.com and ThreeBestRated.com.
Most importantly, customers of Fort Worth Bargain Storage have spoken directly to this hidden gem of a facility rating the site 4.95 out of 5 stars on Google with over 315 customer reviews!
What Does Forth Worth Bargain Storage Have to Offer?
This Bargain Storage facility provides Fort Worth residents with clean, secure, and convenient storage options. Unit sizes range from 5x5 to 10x25, and each rental comes with a free disc lock to keep your items more secure. Customers have automated gate access to their storage units every day and the month-to-month leasing option helps making moves a seamless task.
Stored items are kept secure by a perimeter security fence, bright lighting, an onsite resident manager, and 16 high-definition surveillance cameras around the facility.
Renters can access storage through the automated gates daily from 5 a.m. to 10 p.m. The office is open from 9 a.m. to 6 p.m. Monday through Saturday and from 12 p.m. to 5 p.m. on Sunday. We welcome you to call or stop by the office. Our friendly on-site property manager will be more than happy to help you find the perfect self-storage unit that is just right for you!
Facility: Fort Worth Bargain Storage
Location: 8900 Creek Run Rd, Fort Worth TX 76120
Phone: (817) 274-4714
Email: manager@fortworthbargainstorage.com
Website: www.fortworthbargainstorage.com