Arizona is called the Grand Canyon State for good reason — this huge, natural gorge is one of the most popular places to visit in the United States. But while road-tripping through Arizona, you'll also find many other sites worthy of a few selfie photos on Instagram.
Arizona is the 6th largest state in the country, so plan your trip and hit the road! Traveling through the U.S. in a new or used recreational vehicle gives you the freedom to stop where and when you want, stay as long as you like, and cut down on expenses.
Here are a few places to check out when driving through Arizona.
The Grand Canyon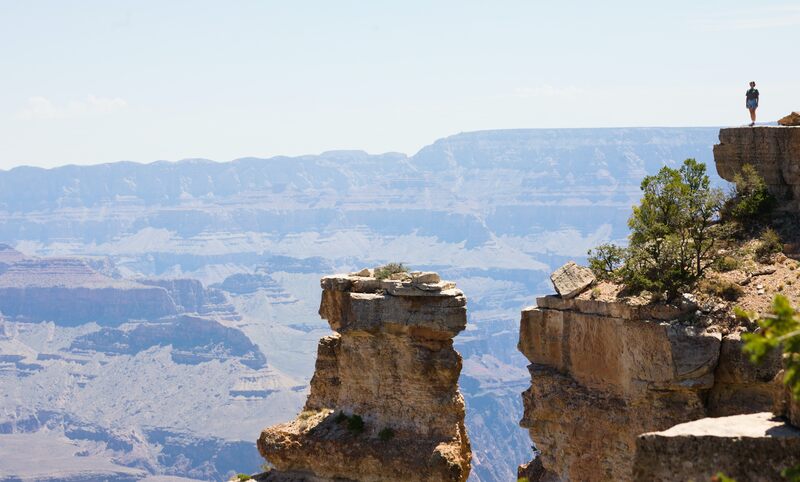 Source
A trip to Arizona must include the Grand Canyon, especially if you've never seen it in person. Even cities with the best residential views can't compete with the grandeur of this vast chasm.
Grand Canyon National Park is in the northwest corner of Arizona and is separated into the South and North rims. This popular tourist attraction is always busy, so plan your visit in advance.
The Grand Canyon is an incredible phenomenon — take your time and enjoy it! The South Rim's activities include:
Yaki Point

— the famous overlook awaits! Take the free shuttle from the visitor center.

Walking the Rim

from Yavapai Point to Verkamp's Visitor Center (1.4 miles) or from Mather Point to Yavapai Point, where you can visit the geology museum (0.7 miles).

Take a riding tour

with

mules

or

horses

to the bottom of the canyon. Spend the night at

Phantom Ranch

.
While you're at the Grand Canyon, consider renting a bike (or bring one with you) for a ride along the South Rim. You can also hop on the free shuttle buses, check out nearby shops, galleries, museums, and outdoor exhibits, and go on a guided tour. Camp at one of several campgrounds near the North and South rims.
Route 66

Source
Now that you've had a grand time at the Grand Canyon, it's time to head down to the famous Route 66, one of the original highways on the U.S. highway map. The drive from Grand Canyon Park is about 75 miles northwest of Flagstaff, Arizona.
Historic Route 66 runs from Chicago to San Francisco — and while the original route has sections that are no longer drivable, much of the Mother Road in Flagstaff is still accessible. In addition to a visitors' center, Route 66 in Flagstaff has original iconic buildings, neon signs, historic hotels and motels, and a pedestrian walking tour.
Flagstaff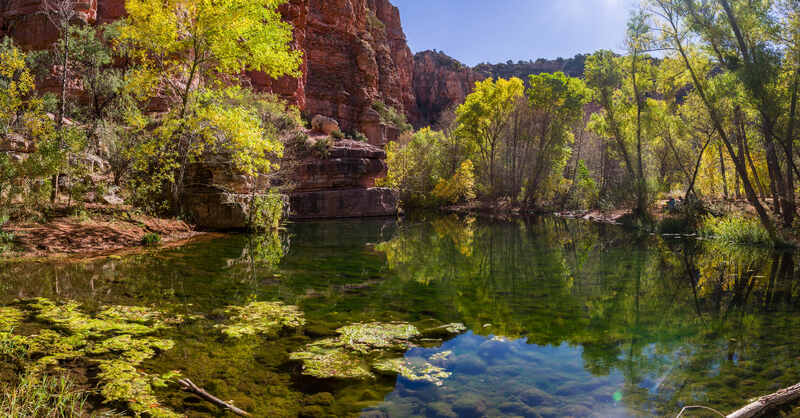 Source
Hang around Flagstaff where, outside of the city, you'll find rocks, ancient dwellings, and native plants that remind us of what Earth was like millions of years ago. Visit the Coconino Forest, with its alpine tundra, Ponderosa pine trees, and red rocks of Sedona. Bring along your hiking shoes, fishing pole, swimsuit, and maybe some bug repellent –– Arizona has some weird bugs!
Petrified Forest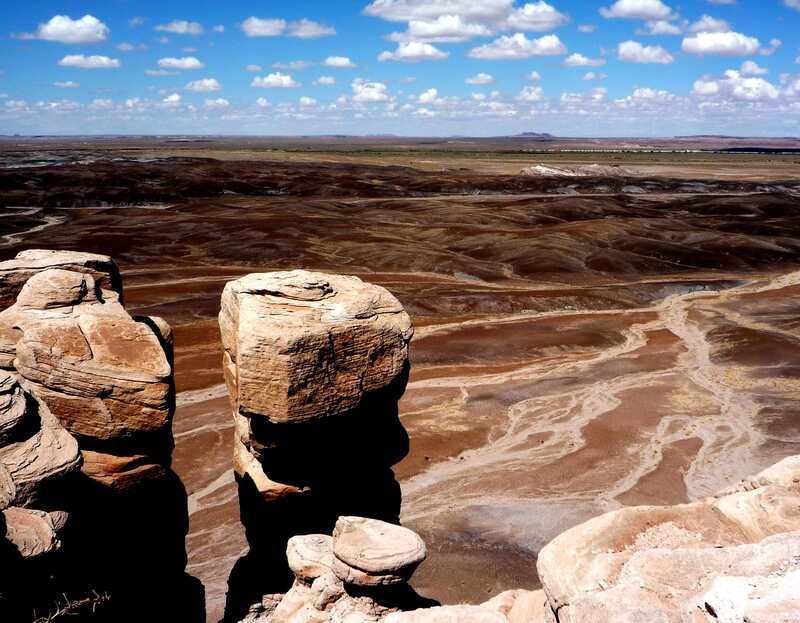 Source

After Flagstaff, jump on Highway Route 40 to cruise to the Petrified Forest. The forest is located near the beautiful, naturally striped Painted Desert.
When ancient forests were buried by volcanic ash and layers of sediment, the trees lost their organic matter, turning into structures of iron, manganese, and silica. These minerals formed colors and patterns in the petrified wood.
Phoenix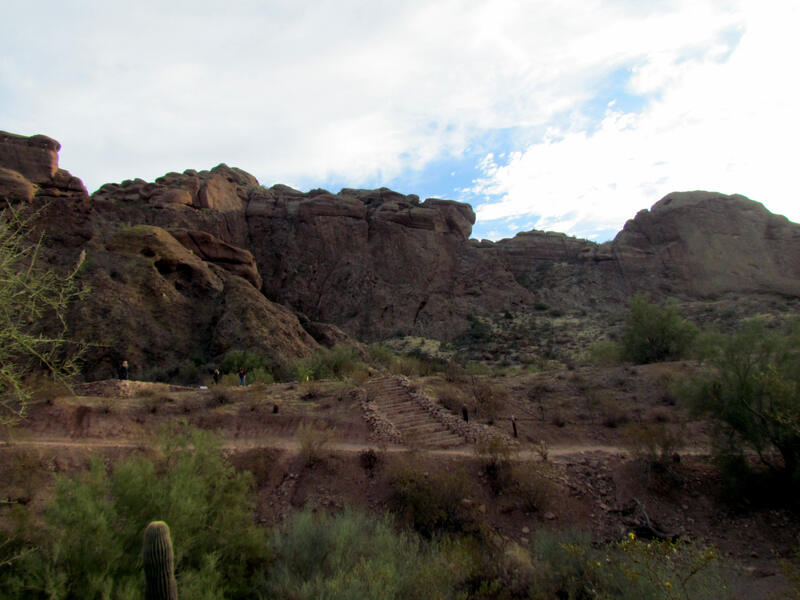 Source
If visiting a Major League Baseball park is on your to-do list, drive down to Arizona's capital city to see the Arizona Diamondbacks at Chase Field. Don't worry about getting too hot — this ballpark has a retractable roof and air conditioning.
Some other cool things to do in Phoenix:
Visit the Desert Botanical Garden to see and learn about Arizona's native succulents. Many varieties of cacti and agave are among this spectacular collection.
Musical instruments have their own museum in Phoenix. The Musical Instrument Museum has more than 7,500 instruments from more than 200 countries and territories.
Camelback Mountain is for serious, experienced hikers who can climb steep hills and uneven terrain. Camelback Mountain's summit is more than 2,700 feet above sea level. Looking for more variety of hikes to try, here's an additional resource: Best Hiking Trails for Beginners and Experts to Explore Near Phoenix, Arizona.
One of the most memorable experiences you'll ever have is a hot air balloon ride. Early morning, afternoon, and sunset rides are available.
Mesa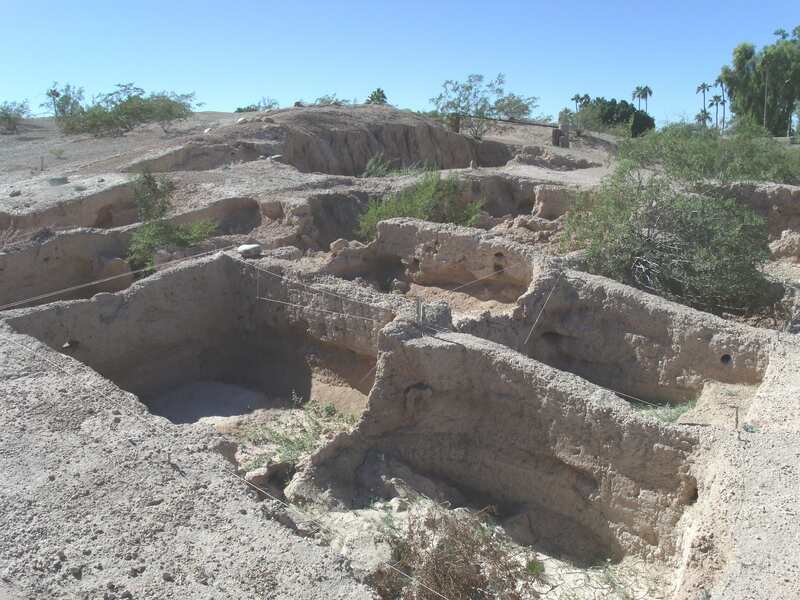 Source
Just east of Phoenix, the city of Mesa has its share of historical exhibits — many housed at the Mesa Grande Cultural Park. Check out ancient civilization ruins from the Hohokam people who once lived in the Salt River Valley.
Tempe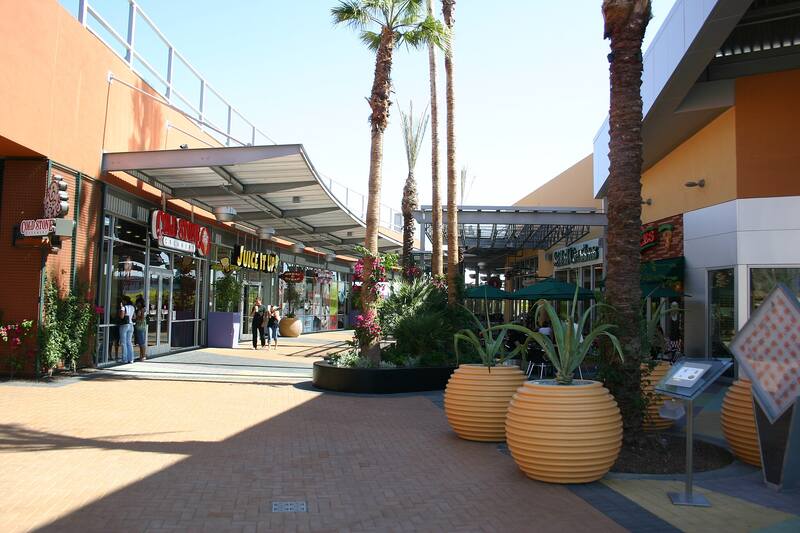 Source
On your travels through sunny and dry Arizona, it's time to get wet. Tempe has splash pads, wave pools, water parks, and rooftop pools in various areas around the city.
Tempe has a lot of free — or almost free — things to do. Many of the city's museums and festivals are free to get in, (and the Tempe Marketplace has a splash pad, too).
Chandler

Source
On your way out of Phoenix, take a southeast drive through Chandler, Arizona. Enjoy a visit to Desert Breeze Park, complete with train rides on a vintage-looking railroad. Also in Chandler is the Veterans Oasis Park, with its wetlands full of native greenery. Tumbleweed Park has a kids' area called Playtopia — a specially-themed playground.
Speaking of trains, the Arizona Railway Museum has a lot of cool old train cars among its artifacts. Because it's so hot in summer, the railway museum is open from September through May.
Rootin' Tootin' Tucson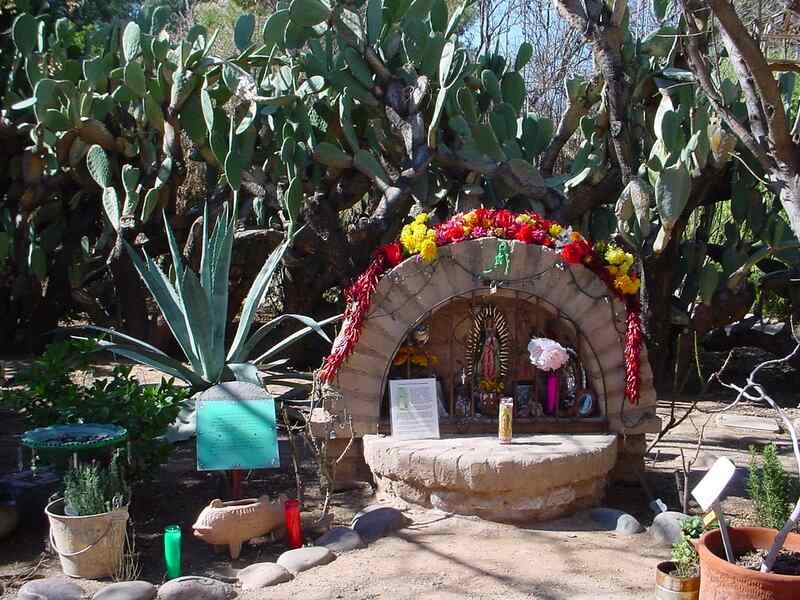 Source
Phoenix and the nearby cities of Mesa, Tempe, and Chandler were a lot of fun, and now it's time to jump on Highway 10 toward Tucson. Tucson is the second-largest city in Arizona. Its natural scenery features exquisite desert landscapes and Saguaro cacti.
Take an easygoing trek through Mount Lemmon Scenic Byway, Sabino Canyon, Catalina State Park, and Saguaro National Park. Tucson Botanical Gardens (on North Alvernon Way) sits on 5 1/2 acres. It has cacti, herbs, irises, roses, and many more plants originally grown and used by the native Tohono O'odham people.
Tombstone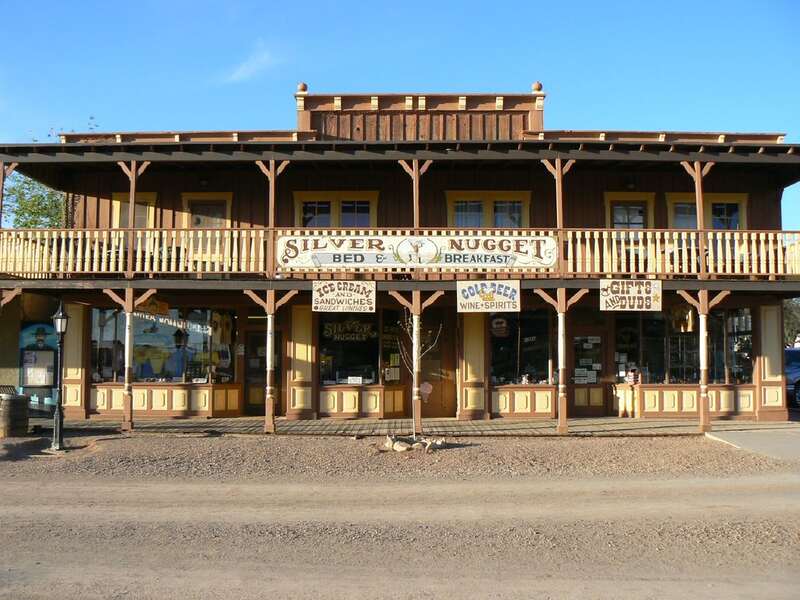 Source
Relive the legend of 19th-century lawman Wyatt Earp with a stop in Tombstone, Arizona. Once a mining town, Tombstone is home to the famed O.K. Corral — a livery and horse stable (1879-1888) where a gunbattle between Earp and his brothers took place against the Clanton-McLaury gang.
When planning your road trip through Arizona, pack a lot of water for drinking and heat-related emergencies, sunscreen, a few hats, and a paper map because satellite signals may not always be reliable. But most importantly, check the engine and air conditioning system in your ride, especially if the RV has been in storage for a while.
One more thing when working out the details for your AZ vacation … one week just isn't going to cut it, so plan for at least two or three. Rome wasn't built in a day, and the Arizona desert's natural beauty isn't a day trip.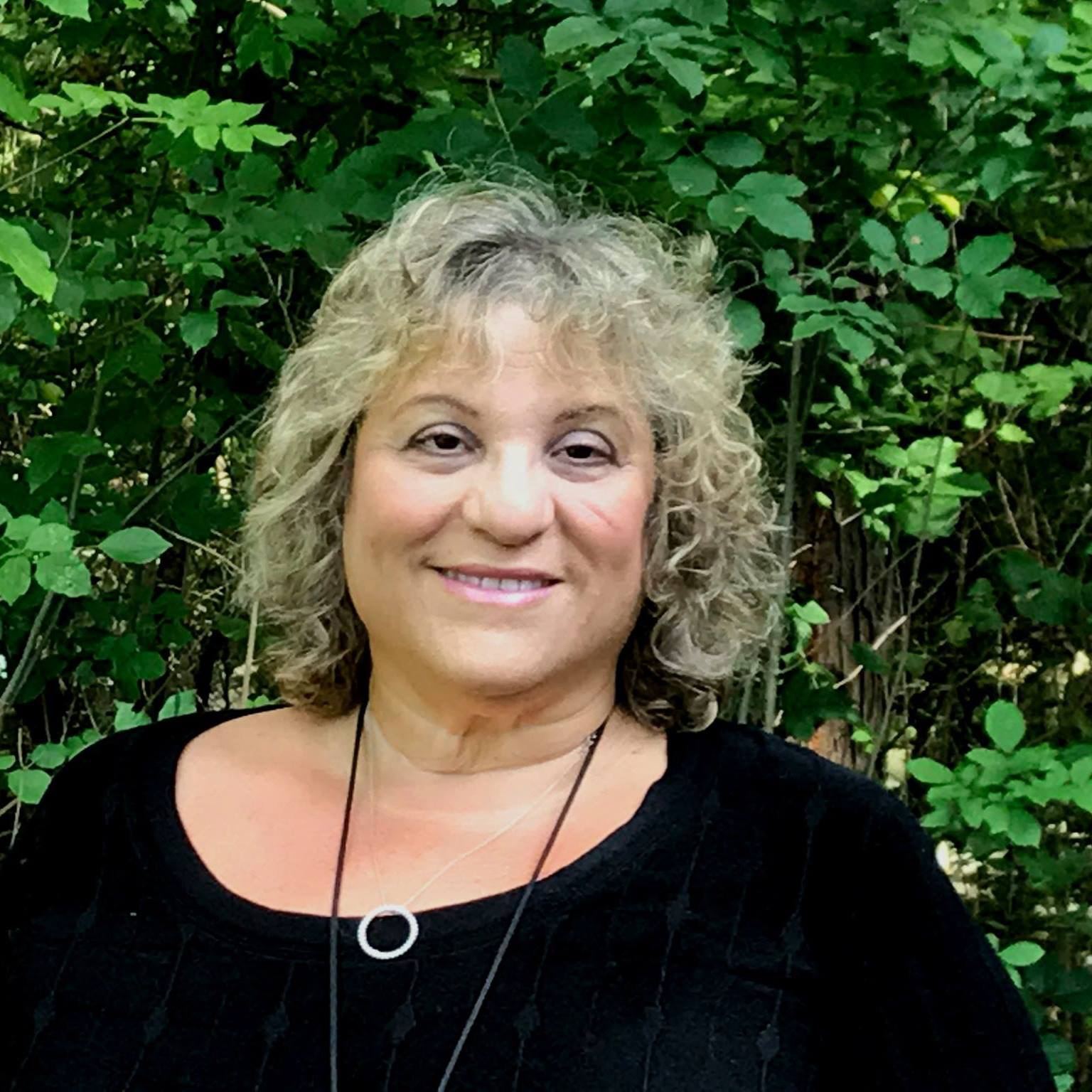 Teri Silver is a journalist and outdoor enthusiast. She and her husband live on 5 acres with a vast lawn, three gardens, a farm, a pond, many trees, and a lot of yard work! The best parts of the year are summer and fall when home-grown veggies are on the dinner table.