One of the main priority's customers have when storing their valued belongings in a self-storage facility is knowing they will be safe from theft, damage, or other undesirable events.
In choosing Bargain Storage, you can rest assured knowing that your things are in excellent hands. We take several proactive steps to ensure that no unauthorized individuals have access to the premises and that your belongings are properly protected by anybody who may want to attempt to steal them, as well as any potential damage that could arise from bad weather conditions and other external forces.
This blog post will detail the measures we take to keep our customers' belongings safe and sound. Keep reading to learn more!


Secure Perimeter Fencing to Outline the Property
Secure perimeter fencing helps protect the facility and its contents by making it extremely difficult for unauthorized individuals to enter. For this reason, it also works as a powerful deterrent against potential burglars and other intruders.
At Bargain Storage, our perimeter fencing is constructed with the best materials and designed to maximize the security of our facility. Our perimeter fencing is built with solid steel posts that reach 8 feet tall and features razor wire panels to prevent intruders' access.


Storage Units Designed to Deter Break-Ins
Self-storage units may be a target for break-in attempts by those trying to steal your belongings.
Investing in high-quality locks is one of the most basic measures to prevent this from happening. The more secure the lock, the harder it will be for burglars to access your items. At Bargain Storage, we also make sure customers can choose from a wide selection of available locks, from basic ones to higher-security ones that provide additional protection.
Heavy-duty steel doors are another crucial factor in preventing burglaries at our facilities. We only use the most robust and durable doors available on the market, making it even harder for any intruder to gain access.


24/7 Video Security to Monitor All Activity in and Around Our Premises
Video security is a crucial component of a self-storage facility's strategy to keep customers' belongings safe. It provides constant monitoring of the premises and its immediate surroundings.
Its first function is to work as a deterrent. Since the facility is under 24/7 monitoring, intruders will be more likely to think carefully before breaking in and committing crimes on the premises.
Then, it is used to identify suspicious activity while it's happening to alert the competent personnel and authorities and prevent a crime before it occurs.
Finally, video security can be used to collect evidence of illicit acts after they have been committed. This can help law enforcement agencies to identify, locate and apprehend the criminals involved, and it can be crucial in court proceedings.
At Bargain Storage, business video surveillance devices are placed in strategic locations in and around the self-storage facility. These include entrances, exits, storage unit areas, and the facility's perimeter.


Modern Access Control Solutions to Keep Unauthorized Individuals Out
Having access control solutions in place is also paramount for self-storage facilities. They come in different varieties, from automated gate systems to keypads where customers can enter their unique individual PINs.
Access control solutions are designed to prevent unauthorized people from entering the premises and gaining access to your belongings. At Bargain Storage, we ensure our customers' units are as secure as possible by investing in the latest technologies and upgrading them regularly.
Aside from staff, only customers with valid IDs will be allowed to enter the facility's premises, and they will be the only ones to access their own units.


A State-of-the-Art Alarm System That Guarantees Swift Intervention by the Authorities
In order to trigger the fastest response possible to any threat that may arise, we at Bargain Storage have invested in a state-of-the-art alarm system. It's connected to a monitoring station operated by human personnel 24/7, who will be alerted the moment any suspicious activity is detected.
Our alarm system is also connected to local law enforcement and will immediately inform them of any security breach so they can be at the crime scene in no time.
You can sleep soundly, knowing that no attempted breach will go undetected without a fast and effective response.


Climate-Controlled Units to Protect Your Belongings Against Damage
Thieves and other ill-intentioned individuals aren't the only threat to your belongings. Extreme temperatures and humidity changes can also cause substantial damage to them. That's why at Bargain Storage, we offer climate-controlled units to keep your items safe from weather-related harm.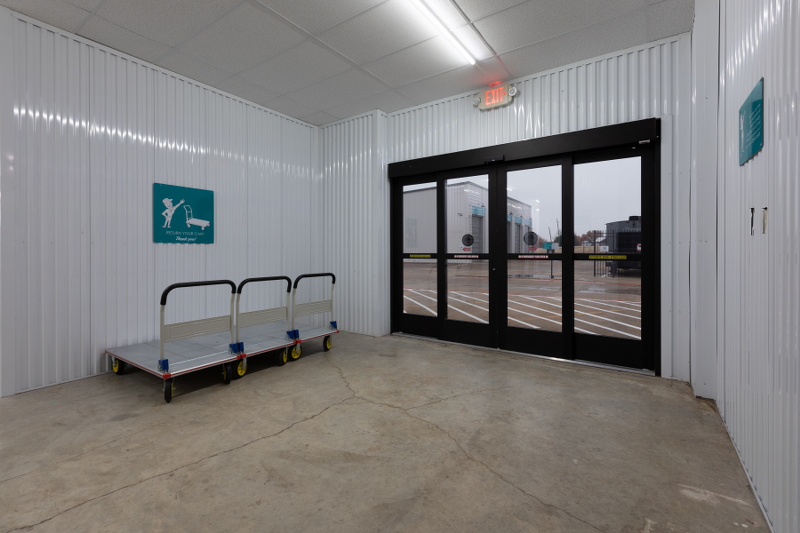 Our self-storage units are equipped with modern technologies that are designed to keep the temperature and humidity levels of your unit consistently regulated. This is ideal for storing items that are particularly sensitive to temperature changes, such as furniture, electronics, antiques, and documents.