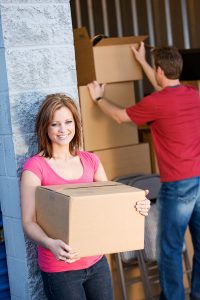 Moving takes a lot of energy, especially if you've lived in the same home for many years.
You have to find the right real estate agent, negotiate contract terms, and say goodbye to the memories your family created there. Then you have to sort, pack, and lift every item that has found its way into your house.
Take some of the stress out of your next move with a self-storage rental unit. At Bargain Storage, we don't ask you to sign a long-term contract. You can rent an indoor or outdoor storage unit for just as long as you need it.
Here are a few ways a storage facility can help you during each stage of your move.
Before a Move
Real-estate agents recommend that sellers declutter every room to make the house more appealing to potential buyers. Some suggest that you take down family photos and box up personal items so the buyers can imagine themselves living there.
A storage facility is a great place to hold family treasures and anything you don't need for day-to-day living until you are settled into your new place. Your home will look beautiful for the open house and for every showing afterward.
Check your garage and yard for extra items, too. Stash your tools, sports equipment, swim noodles, and the family grill in your self-storage rental unit to keep them secure and out of sight.
Even if your house is already clutter-free, you can use a self-storage rental unit to take the stress out of packing. Instead of rushing to do everything at once, you can pack as you have time. Whenever you have a carload of boxes ready, simply drive it to the storage facility. The full boxes are out of the way, and you can work at your own pace.
Be sure to label all of the boxes as you go so you know where to put them when you unload the storage unit.
During a Move
Sometimes buyers and sellers run into a gap between closing dates and moving dates. Maybe your home sold faster than you expected it to, and your new home is still under construction. Or maybe the other party needs to move by a specific date.
Many people handle this in-between situation by staying with family or friends or by signing a short-term apartment lease. Whatever the situation, it's a good idea not to bring everything from your old house to your temporary living space. Instead, store anything that isn't essential in a storage unit until your new home is ready.
After the Move
Today, many people are looking for low-maintenance and no-maintenance homes. Baby boomers and millennials alike are opting to live in tiny houses, condos, and apartments. Less house means less housework and more time to do the things they enjoy.
If you are downsizing from a large home to a small space or switching from owning to renting, you may not know what to keep and what to get rid of until you live in the new place for a while. Will you need a ladder in your condo? Should you bring your workout equipment with you or wait until you hear how soundproof the new apartment is?
A storage unit can hold everything you're not quite sure about until you decide what to do with it. It can also hold the family memorabilia until you have time to sort through it properly.
Some of our customers continuing renting their storage units long after they move. They enjoy having extra space in their home by keeping seasonal items like holiday decorations or sports equipment safe and out of the way until they're needed.
At Bargain Storage, we know how much work goes into selling a home. Let the friendly staff at our storage facilities help you find the right storage unit for your needs.
Take a look at our infographic below about moving facts and statistics in the United States,
and see how Bargain Storage can help with your next move!
Download the Full Infographic Here