Whether you need extra storage in between a move, a place to keep your furniture while you remodel, or storage for your business, self storage units provide the perfect answer to your need for a little extra space.
So, if you're thinking about renting a unit at a storage facility, one of the most important decisions you will need to make is choosing what kind of storage unit you need? It's easy to become overwhelmed by all the options that are available. There are quite a few resources out there to help choose. Below we will outline some of the options but also consider reviewing Moving Waldo's recent article Q&A with Storage Experts where they compile information from many different storage companies.
But back to our question, what type of storage do you need? Should you pick a unit that is inside or outside? Will your things fit in a small as a walk-in closet sized unit or will you need something larger? Should you hire someone to move everything for you, or should you do it yourself? Do your special items need to be kept at a consistent temperature? Does your HOA say that your boat needs to find a new home that isn't your driveway? There is a great storage solution for any of these scenarios and many more.
At Bargain Storage, our team is happy to help you figure out the type and size of storage unit that fits your needs. The main factor is, of course, what you need to store in it. You can always consult with one of our helpful property managers on site but we have also created a great info graphic and guide to all the various types of storage to help break it all down. Let's take a moment and discover just what kind of storage might be the best solution for you!


Outdoor / Drive Up Storage
A storage facility with outdoor storage (also commonly referred to as drive up storage) offers storage units that can be accessed from the outside of the building. Just as it sounds, you can conveniently drive up and unload your items directly into the unit. Units usually have a roll-up door similar to a garage door or an oversized man-door so you can move items in and out easily without having to maneuver them through tight spaces. Customers often use these types of units to store larger items like furniture and appliances.
In addition to what security the facility offers in general these units are also secured with a lock to keep others out of your unit. We always recommend using a disc lock to secure your unit. These types of locks are much harder to tamper with and offer you an extra layer of protection for your items. One thing to remember about units that open directly to the outside is that they are not climate controlled, so make sure to store items that can withstand the weather in your area, such as humidity, freezing temperatures, or the desert heat.


Indoor Storage / Inside Units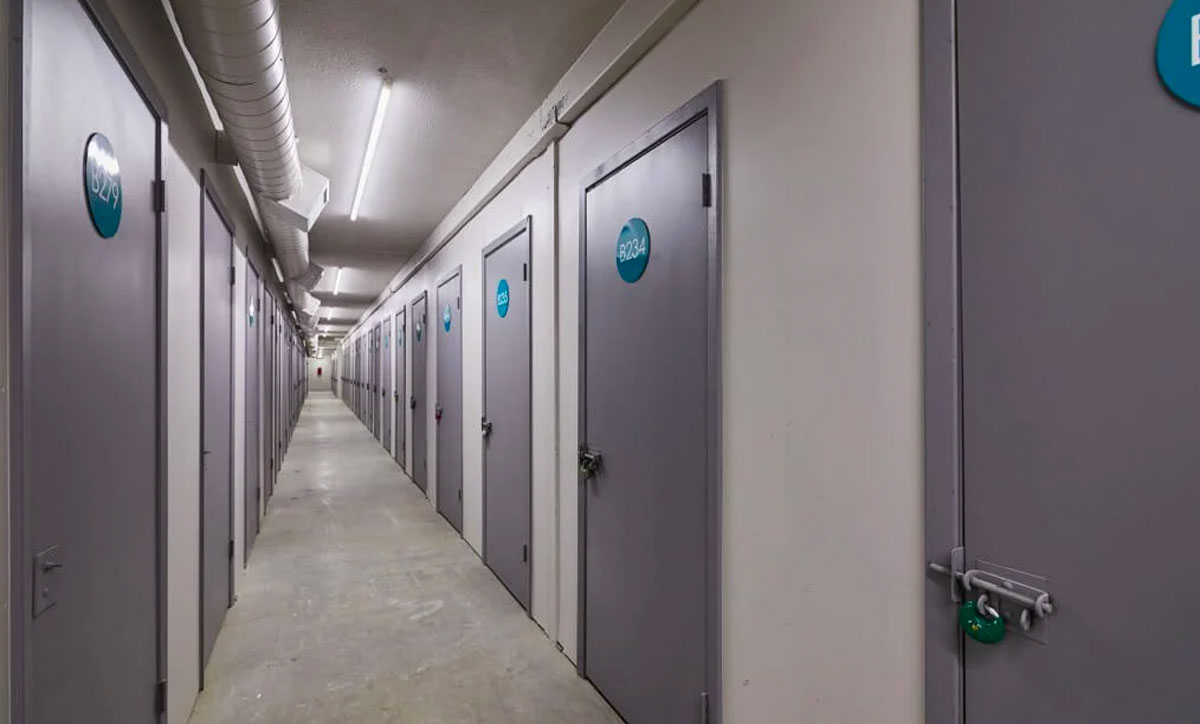 Indoor storage units are usually located in warehouses or large buildings where customers use a key or access code to enter the building. If the indoor storage is also climate-controlled, the temperature and humidity are set to specific level to help protect your items from damage that can be caused by changing weather.
What is climate controlled storage? Climate controlled storage is a type of storage unit that is specifically designed to maintain steady temperatures and humidity levels. Climate-controlled indoor storage units are well-suited for business records/inventory, storing family mementos, antiques, musical instruments, furniture, computers and other technical equipment as well as household goods. To learn more about what is best stored in climate control check out our Climate Control 101 blog.


Mobile Storage / Pod Storage
There are companies that can deliver a storage unit right to your home or office so you can fill it at your own convenience. Once you've finished, the mobile storage company moves the unit to a storage facility until you call for it to be delivered. While mobile storage is convenient, especially when moving, make sure you understand the various fees involved with it (for delivery, pickup, storage, fuel subsidies) before you sign a contract. You can also check out our detailed list of the pros and cons in our Storage Pods vs Self Storage blog.


Valet Storage / Full Service Storage
Also referred to as pick up storage, this option is relatively new. With this type of storage the company picks up your items from your house at a scheduled appointment time. They often provide containers and all of your items are cataloged in a convenient app.
Once picked up, your items are transferred to a storage facility where they are kept securely. When you need something out of your storage you set up an appointment for your items to be retrieved and delivered back to you. These appointments often come with additional fees so this is not usually the best option for those who want frequent access to their stored items. In our Full Service Storage vs. Self Storage blog we break down all the differences between the two methods. So, if you are thinking this might be the option for you, that is a great place to get all the details to help you decide.


Business Storage
Businesses in every industry need extra storage at some point – to hold items while moving locations, to protect important documents, or to store extra inventory. Business storage can be drive-up outdoor storage or climate-controlled indoor storage. Let the type of items you plan to store determine which type of business storage facility to choose.


Boat Storage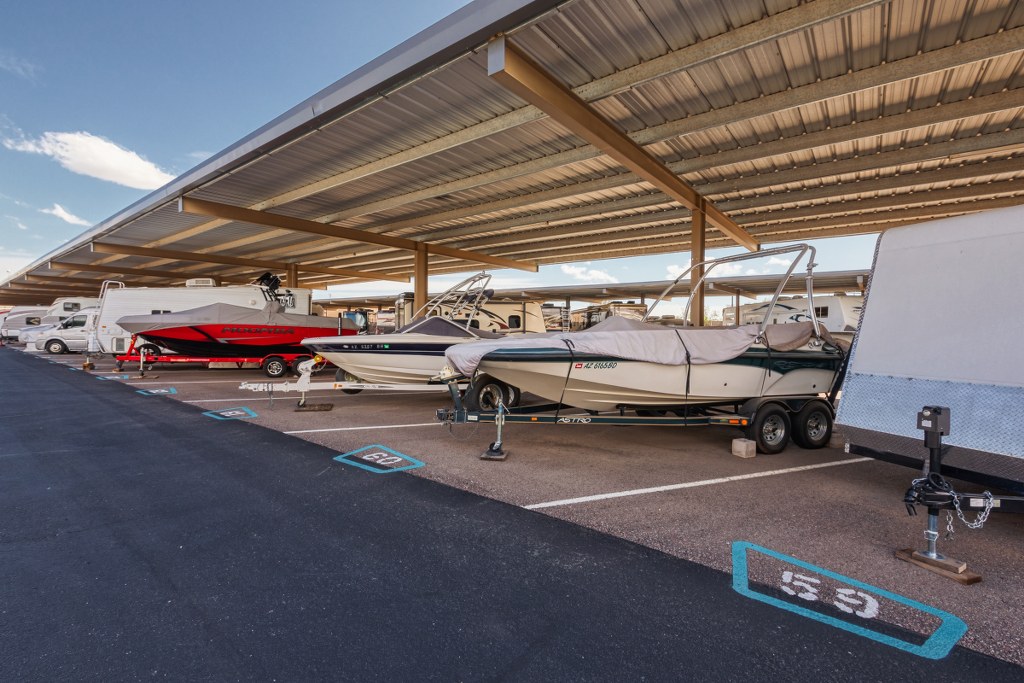 Boat storage facilities can hold your watercraft after a day on the lake or at the end of boating season. Finding the right boat storage facility keeps your boat close to the water – and out of your driveway.
Outdoor units are often a 20- or 40-foot parking space where you can park your boat and trailer. They may be covered or uncovered.
Indoor boat storage units look like oversized garages and can store your boat, trailer, personal watercraft (such as Jet Skis and Sea-Doos), equipment and anything else that you take out on the water.


RV, Truck, or Car Storage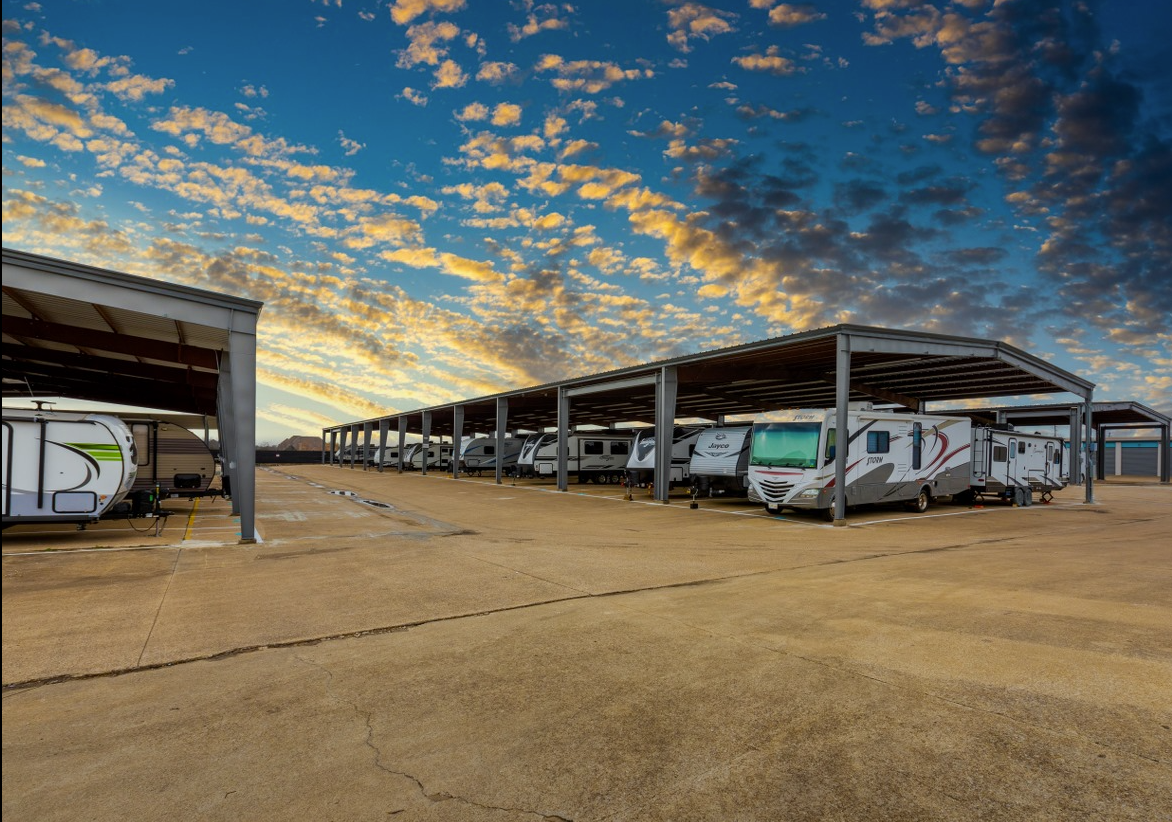 No garage? Full garage? Business fleet? You can keep your vehicles safe in a large storage unit or in an RV storage parking space. This is a great solution for extra company cars, construction and landscaping vehicles, or that sweet ride you plan to restore someday. So, whether you have a tiny tag-along or a mansion on wheels, you can stow it at a storage facility between uses. Parking spaces come in many sizes to suit your vehicle and may be covered or uncovered. Covered spaces of course provide extra protections from the elements but do come at at additional costs. Finding a parking space that is conveniently located near your can be a challenge.
If you are looking for even more protection for your vehicle you may also consider renting a drive up storage unit that is large enough to park in. This essentially gives you your own personal garage that keeps your vehicle safe from the elements. If you have an RV that is extra tall, however, be sure to pay attention to the dimensions, specifically the height of the unit. You don't want to lose and AC unit while trying to park your RV!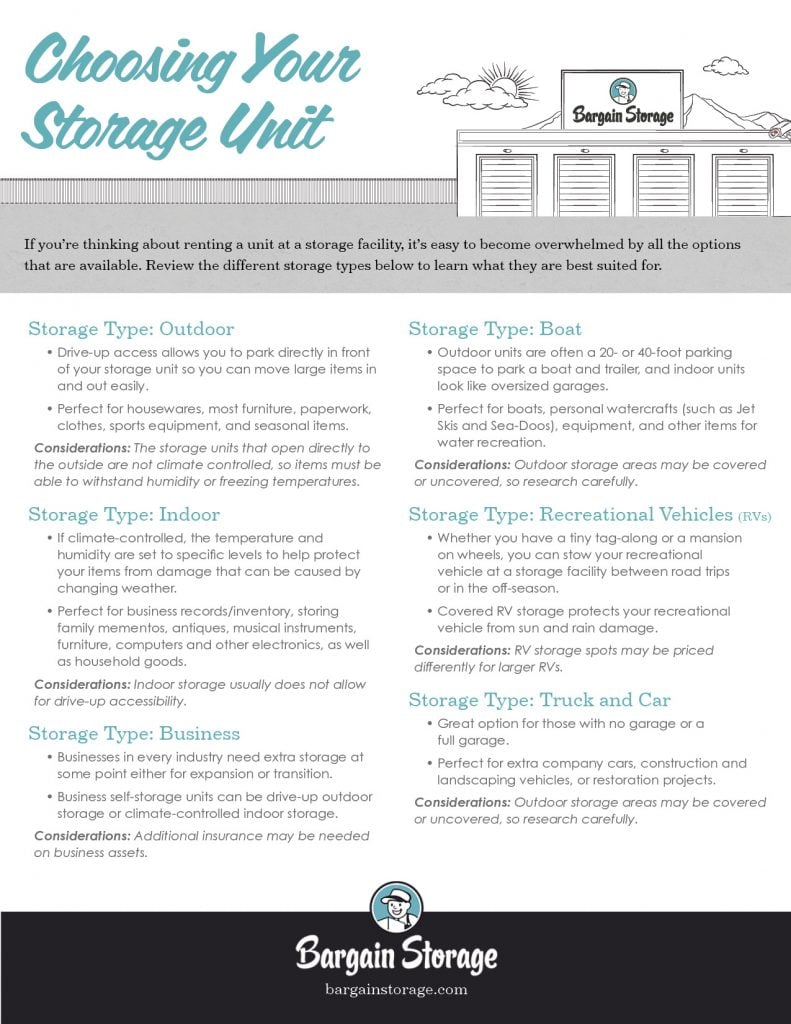 At Bargain Storage, our Texas and Arizona facilities offer you clean and affordable storage solutions, including drive-up units for quick and easy access and, as we've discussed here, even climate-controlled options. We've got something for everyone!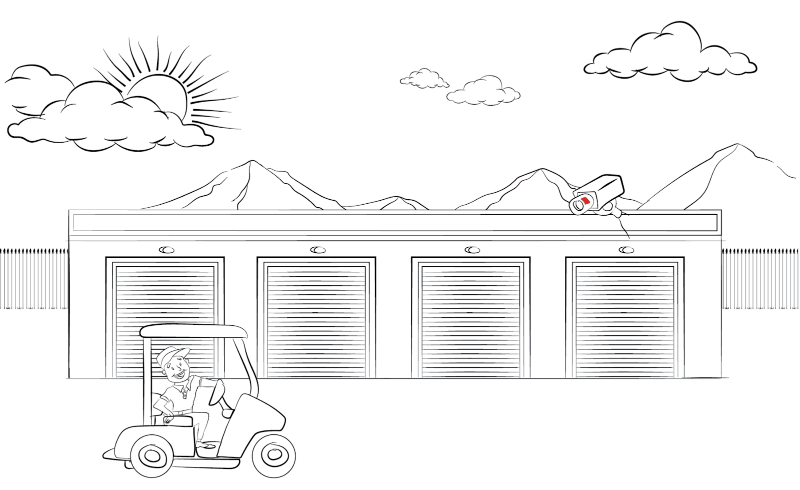 Need help selecting the right size unit? Check out this helpful blog and size guide. Our FAQ and storage tips also might come in handy. And, if you're looking for long-range storage options but want more clarity on the best solutions, feel free to contact us!
Better yet, drop by a Bargain Storage facility near you so that we can give you a tour, show off our variety, and get you set up in a storage solution customized to your needs — including whether a climate-controlled or standard storage unit is right for you.