So you're looking for a storage unit but you don't want to pay for space you don't need. Selecting the right size of storage unit is important because you'll want to avoid cramming too much stuff into your storage space, making it inaccessible. However, you also don't want to be wasting money month after month on space that is going unused.
By following a few guidelines and planning ahead, you'll be able to take full advantage of your space!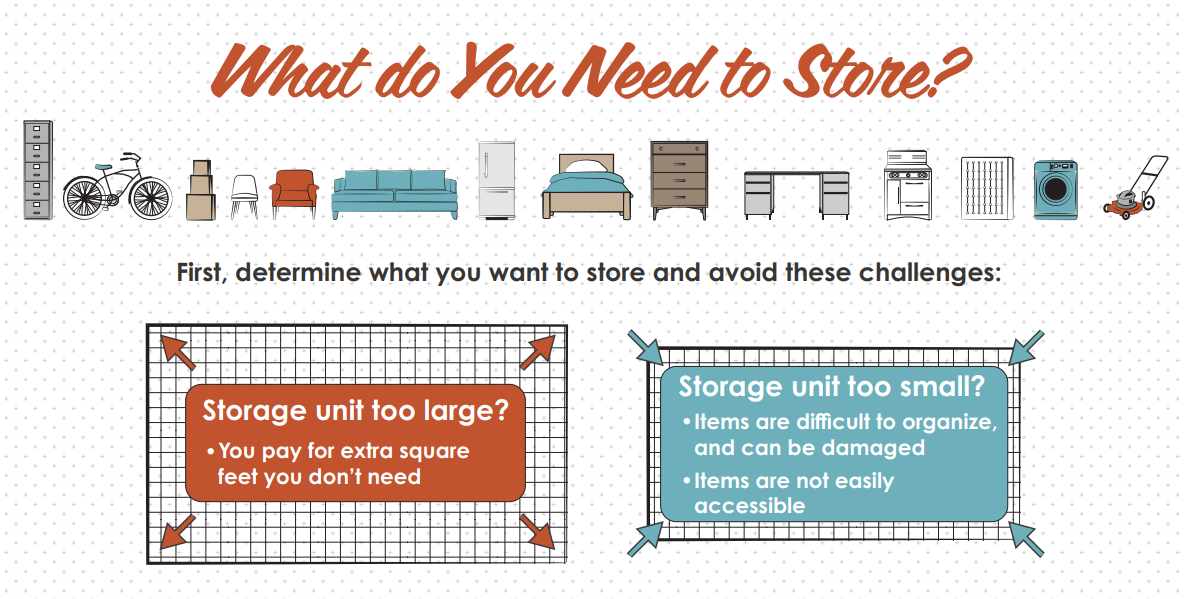 The first step in deciding how big of a storage unit you need is taking stock of everything you want to keep in it. You don't have to start your full inventory list yet, but you do want to start getting a feel for exactly how many square feet you will need.
To do this, start with listing how many large items you'll be moving into your storage unit. This list should include couches, refrigerators, and other furniture, as well as motorcycles, all-terrain vehicles, surfboards, and similar sorts of toys. Though these items won't be boxed up, you'll want to get a feel for how much space they will consume, which can be done quickly by taking their dimensions at the widest, longest, and tallest points.
For irregularly shaped items — such as a motorcycle — remember that you won't be able to stack anything on top of it and will have to consider that space "full to the roof."
Once you've completed this step, make a quick estimate of the number of cardboard boxes or plastic totes you'll be storing — this is why it's good to use only two sizes of boxes — and multiply out how much volume they will take up.
Once you add these two numbers together, you'll have a pretty good estimate of how much space you need. Or at the very least, you'll have a solid starting point.


Give Yourself Space to Access
Don't use every possible square foot of your storage unit for storage. But don't worry — doing this doesn't mean you're wasting space. When it comes to storage units, if there is any doubt at all, go with the next size up. The cost difference is rarely significant enough to be a deterrent and the extra space and ease with which you'll be able to access your stuff will be more than worth it.
We suggest that you spend a little but of time gathering ideas on the best ways to organize your storage unit so you can create a good strategy that will suit your needs. By starting out with enough space to reasonably store all of your belongings, it's possible to create a central path in your storage unit, preventing you from having to unpack everything or scramble over items in an attempt to reach something in the back, which could end up damaging anything underfoot in the process.
Additionally, most people tend to underestimate the amount of space their stuff will take up. This means that if it's already close when you're eyeballing it, you're probably already trying to get away with packing too much stuff into the unit.


Trucking it There
A storage pro tip involves using the size of your moving truck to help you determine the size of the storage space you'll need. This makes sense as they're both blocks of empty space you're filling with your belongings.
If you're using a 15-foot truck, you need a 10'x10' storage unit, while if you're using a 20-foot truck, you'll need a 10'x15' storage unit. Lastly, if you've got a bigger U-Haul, such as a 25-footer, you'll need a 10'x20' storage unit.


Breaking Down Unit Sizes
Another great tool for determining the right size storage unit us by using a storage size guide, this will help you get a ballpark feel for what can fit into the different range of sizes.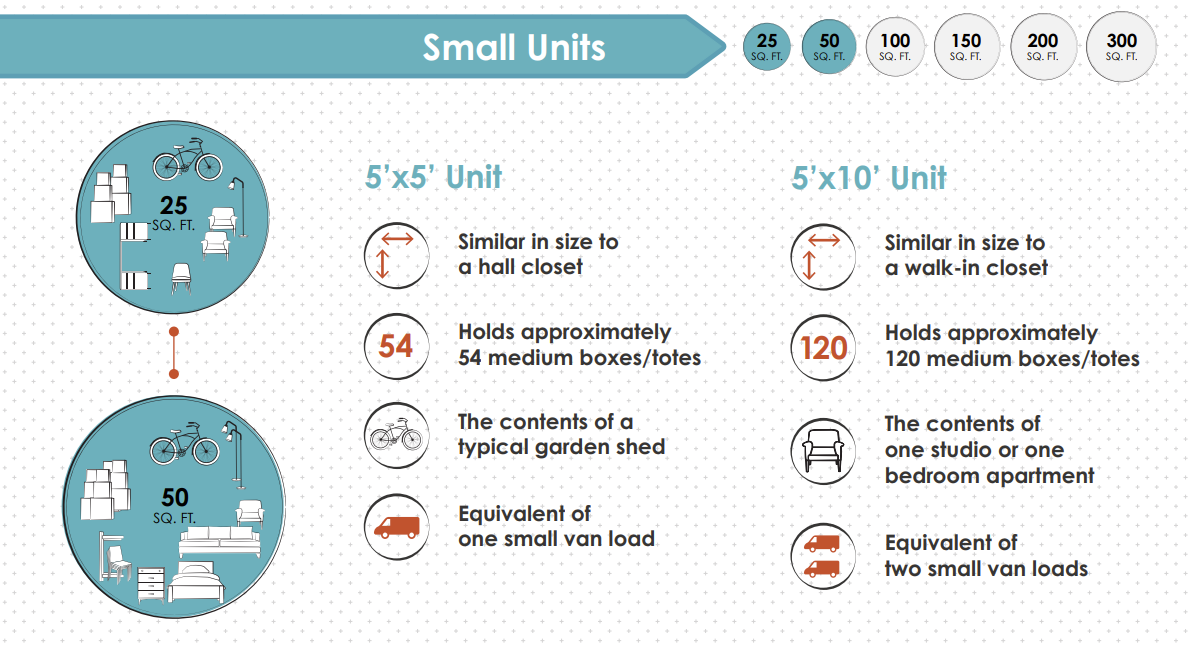 The smallest unit in the market is going to be 5'x5'. This will provide you with 25 square feet of storage, which is basically equivalent to the size of half a closet. You'll be able to fit a small mattress, a dresser, and several boxes in such a unit. These units are ideal for storing seasonal items, such as boxes of winter clothes, camping gear, gardening equipment, and holiday decorations. You'll be able to get about 54 totes or boxes into a space like this.
The next size up is a 5'x10' storage unit, which is much closer to a walk-in closet capable of storing about 120 medium-sized boxes. This is, in general, the perfect size, if you're needing to store everything from a studio or one-bedroom apartment — assuming you don't have too many toys.
Moving up, you'll find 10'x10' and 10'x15' storage units, which can hold many more boxes and furniture.
However, it's the 10'x20' storage unit that's really going to feel like a huge step up in the way of space, as it is equivalent to a standard one-car garage. You'll be able to carefully pack up a three-to-four bedroom house and what's left in your own garage into a space like this. It will fit about 468 medium-sized boxes, but with a unit this large, you'll want to start thinking about access to your belongings and start building in some "dead space" that allows you to walk into the storage space to reach things, instead of having to unpack everything to get to something at the back.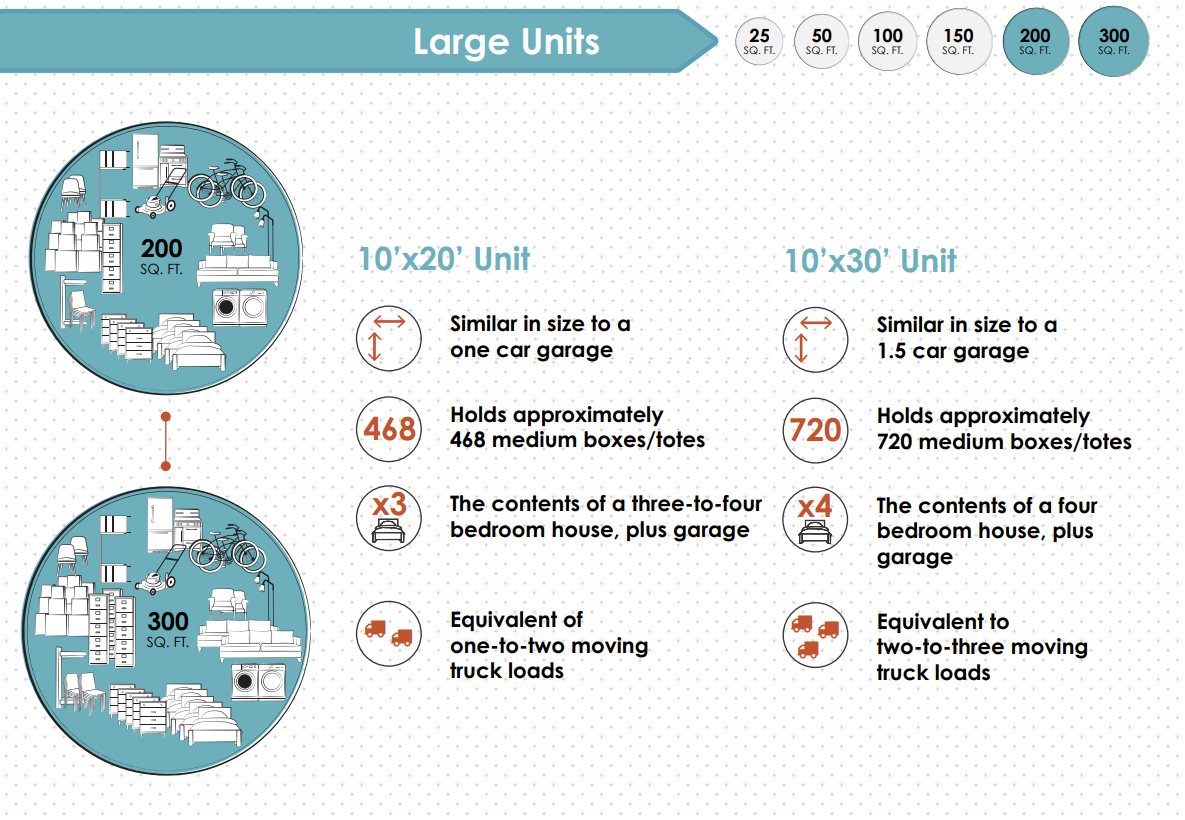 The biggest unit you'll want to consider is one with dimensions of 10'x30'. This is basically the size of a 1.5-car garage and is capable of holding 720 medium-sized boxes, which translates to the contents of a four-bedroom house and everything (but the car) in the garage. This size is also great if you have a boat that you want to keep safe during the winter season, as well as other bigger outdoor toys and tools.


Final Thoughts
If this is your first rodeo, so to speak, don't stress out too much about just the right size. Our friendly on site managers are always around to help you strategize what size storage unit will best fit your needs. Even if you don't get it right the first time, at Bargain Storage, transferring units is quick and easy with no hidden fees.