New Year's resolutions are made for a variety of reasons. Often unique to each individual's goals and ambitions, these resolutions are made to help people improve upon specific areas of their lives. For many homeowners who spent a great deal of time inside over this past year, this year's resolutions may be focused on improving their homes.
During the first three months of the pandemic, an estimated 57% of homeowners completed at least one project in their home. This increase in home improvements isn't expected to slow down anytime soon either, which leads us to believe that homeowners may be using 2021 to set resolutions based on their home desires.
Over the years, home organization has been one of the most popular resolutions made by Americans, and for good reason. Organizing your home can set you on a path to a more productive and happier lifestyle. While the initial step of setting this resolution may be the easy part, tackling and keeping your home organized for the entirety of the year is where things start to get more difficult.
To help you get started, we've put together a few tips on how to tackle your home organization resolutions.
Identify Your Current Problem Areas
The most successful home organization plans are designed with maximum efficiency in mind. For those areas in your home that you use the most or ones that could serve a better purpose, it's helpful to keep them organized.
The best place to start this process is by identifying your current problem areas. Go through your home and make a list of any rooms or specific locations you find are in a constant state of disarray. Also, write down any roadblocks that you have discovered that make it difficult to keep these places organized. For example, this may include children pulling all of their toys out, an area where things are frequently tossed in a hurry to clean up, or a space that is too small for its function.
Knowing where the problems exist will help you create a plan to combat these issues and keep your home organized. There are a variety of websites, books and other resources available that can help you accomplish your home organizing goals. Use these resources as inspiration to make your own plan for how your home can become better organized.
When creating a plan, be sure to set a budget. Storage items can quickly add up, especially if you plan to go through your entire home. Divide your budget up by rooms so that each one is allocated a spending amount equal to how much work needs to be done in it. Try to stick to this budget as best as you can. If you have extra money set aside in the end, you can go back and complete projects you decided to hold off on at the beginning of the process.
Remove Unnecessary Items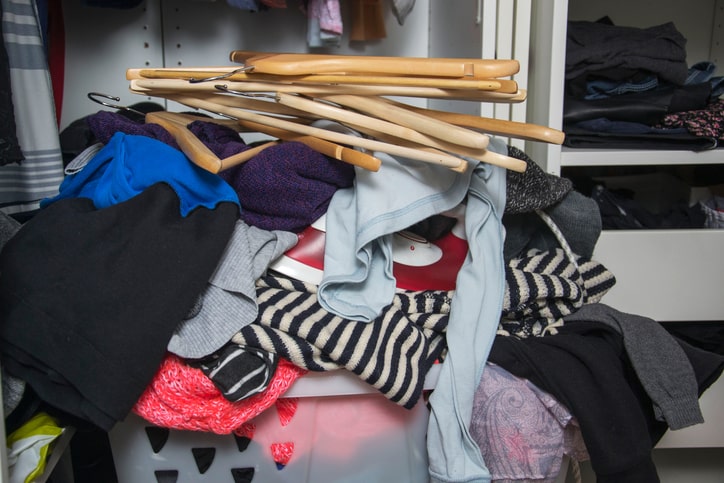 Minimizing your possessions might sound like an overwhelming task, but it doesn't have to be. When you reduce clutter you'll already have fewer items to organize and less to keep tidy in the future. Living a simpler life can help reduce stress, increase efficiency, and save you time and money.
When minimizing, start with something small, like a junk drawer or a closet, and work your way up to the larger spaces of your home. This doesn't have to all be done in one day. Take your time to go through every space of your home carefully and incorporate the whole family in this task. It's a great way to teach your children simple concepts of things like "less is more" and "appreciating what you already have."
Separate your items into three categories: keep, donate, and toss. This tried and true method can help you reduce clutter in a more effective manner.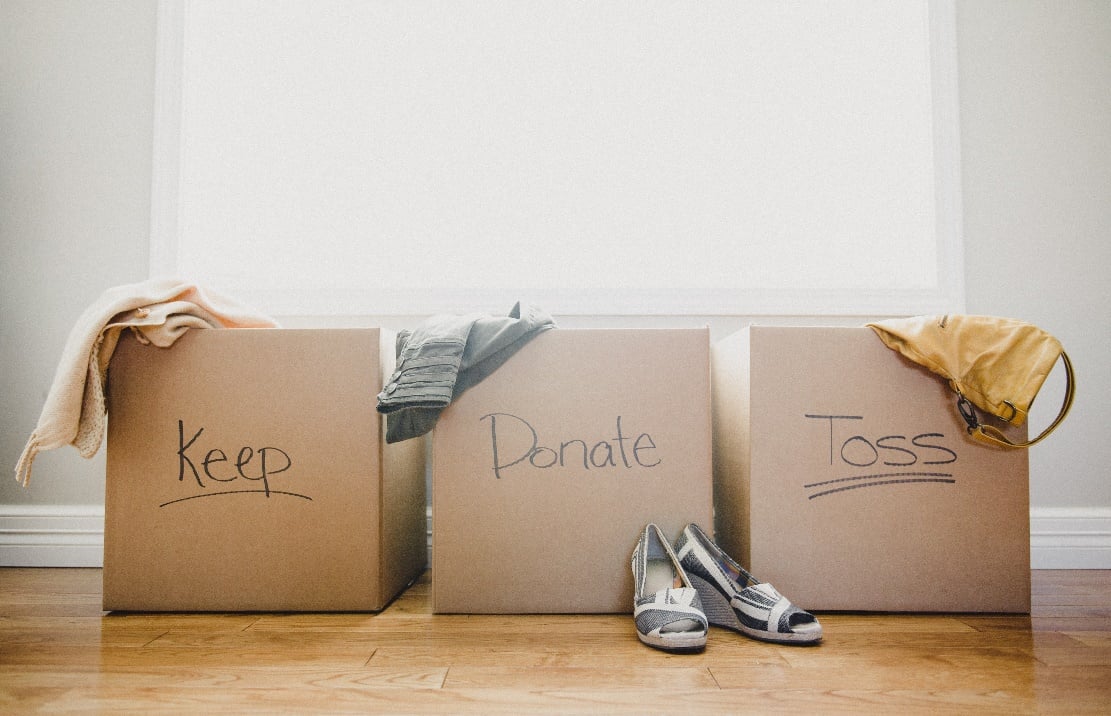 Keep

—

Try to distinguish between items that are necessary and ones that you want to keep, but don't necessarily need to keep. You can store these items in a basement, attic, or garage. If your home lacks this space,

consider renting a self-storage unit

. These spaces are useful for storing items that add to the clutter in your home and are often affordable to use.

Donate

—

Items that you may consider worthwhile to donate include old clothing that no longer fits or that you simply don't enjoy wearing anymore. This can also extend into household items and children's toys.

Toss

—

Avoid holding onto items that don't serve you much purpose or ones that don't have sentimental value. Ridding your home of trash, outdated medications, expired food, or other similar items can make a big difference.
Now that this phase of the process is over, it's time to tackle the items that won't be donated, put in storage, or tossed. Hopefully by now the task will be more manageable with fewer items to go through.
Create More Storage Spaces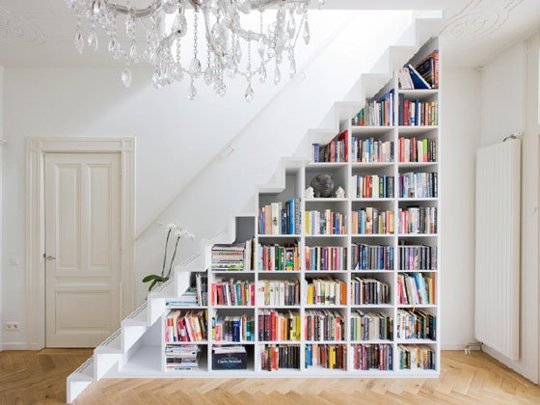 When you're in the process of organizing your home, you may find that some spaces are not being maximized to their full potential. This is common for smaller spaces where storage is limited. Even in larger homes, a room may not have enough space to store everything. Because of this, you may want to consider ways to create more storage space in your home.
Using the internet for inspiration or even talking to a contractor can help you uncover new ideas that will make your space more functional. These projects could be something small like building shelving units or adding a kitchen island, or they could be something larger like finishing a basement or remodeling your kitchen.
The problem many face is that these types of projects often become large financial undertakings. However, if your home could use the extra storage space it may be worth the investment. Home improvements of this nature may even help to raise your property value in the future. There are many resources you can utilize to finance these types of projects. One of the most common options is a home equity loan. This type of loan taps into the equity you've built up over time in your house. The restrictions and requirements for using a home equity loan are often less stringent than other types of loans, which is what makes them an attractive option for homeowners looking to make improvements.
Set a Weekly Routine
As simple as it may sound, setting a weekly routine can be extremely beneficial in keeping your home organized longer. Though it may be something you try to consciously remember to do each morning, try writing it down. Neuroscientists have proven that goals are more likely to be achieved when they are written down.
Two helpful ways to do this are to create a family chore chart or to simply write down a list of things you want to do on a specific occurrence. It can be helpful to break either of these methods down into daily, weekly, monthly, and/or annual tasks.
Daily

— These tasks should be ones that are small and easy to accomplish each day. For example: making all of the beds, picking up toys and other items, doing the dishes, and sweeping the floors.

Weekly

— These tasks should be ones that you give yourself more freedom to achieve at any point throughout the week. For example: washing, folding, and putting away the laundry, vacuuming and mopping the floors, cleaning out the fridge, and wiping down the sinks, countertops, and floors in the bathrooms and kitchen.

Monthly

— These tasks should be ones that you complete on a monthly basis when you have the free time to do so. For example: deep cleaning all rooms, washing the windows, cleaning blinds, and organizing pantries and closets.

Annual

—

Some spaces only need to be done every six months to a year as they tend to stay cleaner and organized than other spaces. For example: going through clothing and toys, paperwork, and garages and sheds.
Setting these schedules should be based on what works best for you and your family. If you're looking for inspiration or wish to find printable schedules that you can use to keep your family accountable, check out sites like Pinterest or Etsy where individuals share these types of resources.
Label Everything Clearly
Once the spaces and rooms of your home are organized to your liking, it's important to label everything. Doing so will make it easier for family members to remember where things go. You can effectively label things by using either a printer or a label maker.
Having labels also helps you remember what certain things are that may otherwise be unrecognizable. For example, you can use labels to distinguish different electrical cords or important files.
No matter what methods or systems you choose to use in your home organization, you're sure to be successful by making a plan and sticking to it. Even when things start to become disorganized again, take a deep breath and set aside just a few minutes each day to tackle the mess. Dedicating yourself to small projects makes the biggest difference in accomplishing your home organization resolutions.
We're Here to Help!
At Bargain Storage, our facilities in Texas and Arizona offer clean and affordable storage solutions, including drive-up units for quick and easy access and climate-controlled options. Need help selecting the right size unit? Check out this helpful blog and size guide. Our FAQ and storage tips also might come in handy.
Contact us today for details!